West Celebrates the Day of the Dead
Niles West students celebrated the Day of the Dead, a day dedicated to cherishing the lives of loved ones who have passed away.
DECA and Spanish Honors Society organized an event in honor of Earl Nowak and Chris Schwarz, who passed away this school year. This Día de Los Muertos celebration brought students and faculty together to remember these teachers. Members enjoyed pan dulce and created an altar, also known as an ofrenda, decorated with tissue-paper marigolds, mini pumpkins, paper sugar skulls and paper banners.
The event was organized by seniors Macy Tran and Alicia Malek with a purpose to remember Nowak and Schwarz, learn about Hispanic culture, support a business, and raise money for an organization.
"For DECA this year, my partner, Alicia, and I are working with a local business, La Pinata Bakery, located in Lincolnwood, to help them create a presence in the community," Tran said.
This bakery provided the pan dulce given at this event. Additionally, the money raised will be donated to Casa Central, an organization that helps Latino families in the Chicagoland area.
"I appreciated the effort to offer and try to show a bit of our Mexican culture. I enjoyed watching the students participate and create their own offerings for the ofrenda. I also enjoy having my Catrines on display now," Executive Secretary Adriana Aleman-Rodriguez said.
Around 100 people came and decorated the ofrenda for Schwarz and Nowak.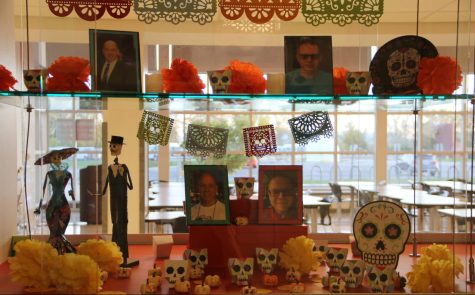 "It really was a win-win-win all around, you had crafts, you had fun, you had a movie, you had fundraising, and you had a community coming together," Spanish Honors Society sponsor David Malatesta said. "The ability to come together as a community around this difficult situation I think was very important for the students as well as the teachers that attended. It was very difficult to lose these two teachers."
"Although these teachers are no longer with us, they will never be forgotten. Every time we pass by the display, we will remember how they changed our lives," Malek said.