Mask Contest: "Catch Them Being Good, Mask Edition"
To encourage proper mask-wearing, a contest was created for the students of Niles West. If you are rewarded a ticket, you can enter a raffle that is drawn at the end of the week for the chance to win a variety of prizes.
An email was sent out from Dean Tim Dykes announcing and explaining the competition on October 20th.
"If you are 'caught' wearing your mask properly in the halls by a staff member, you may be handed a ticket," Dykes wrote. "Please fill out your information on the ticket and place it into one of the boxes located in the South Lobby, Oakton Lobby, or Student Commons."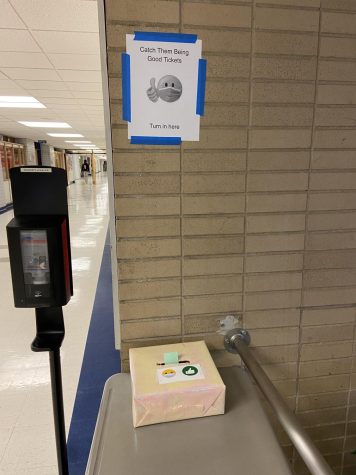 Teacher and coach Susan Arcus helped bring the contest to life when concern for students improperly wearing face masks was rising.
"We have done a 'catch them being good' program in the past. When I heard teachers expressing their frustration with kids not wearing masks in the halls and the confrontations some of them have experienced, this initiative came to mind," Arcus wrote. "I believe in rewarding good behavior. I like thanking kids for doing the right thing."
About 230-300 tickets get turned in each week.
"I like how excited some kids get when we hand them a ticket. In the science wing, kids now see me, and say 'I'm wearing my mask correctly!'. That makes me happy," Arcus wrote.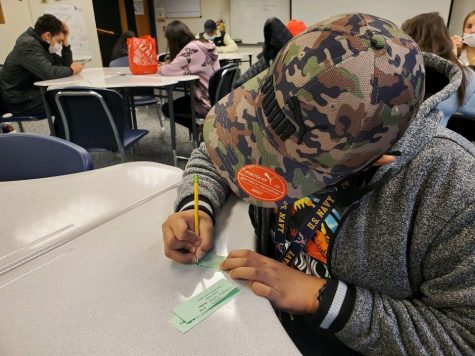 Senior Emily Kim was one of the winners for the week, and received a bag of popcorn during class.
"I was really happy and caught off guard because I didn't think I would actually win. When they came to drop off the prize, they made it like a whole event. So it made me happy in front of my class because everyone was like 'oh my gosh!' And the popcorn said my last name on it so everyone thought it was purposely like that, but then I figured out everyone else got the same popcorn," Kim said. "I do not think this is helping, but I think it is a good effort in trying to encourage people."
This is the third week the contest will be continuing, and there will be new prizes.
"Week 1 and 2 we had 12 winners each week with the prize being popcorn-Chicago mix. Week 3 will have 20 winners with prizes of candy or pop as the prize," Arcus wrote.