Mask Mandate Demonstration Continues for Second Day; Parents Join Students Outside West
Niles West seniors Sam Philips and MurphyMaeve Holleran led a walkout at 10:40 a.m. on Thursday, Feb. 10 as a continued demonstration to protest the mask mandate in District 219. Parents and community members lined the sidewalks in front of Niles West at 10 a.m. Many held signs that said, "No Mask Mandate" and "Follow the science. Unmask the kids." 
The previous Tuesday, Feb. 8, students held a maskless protest set for the main entrance but later moved into the school auditorium.  
"In the auditorium, no one could see us. We felt like we weren't making a difference," Philips said. "We want to empower the community. We want to empower the students inside. We want them to know that people are with them and that there aren't only a few select kids who don't like their masks; a lot of people don't like their masks. So we also want to show that to our community here."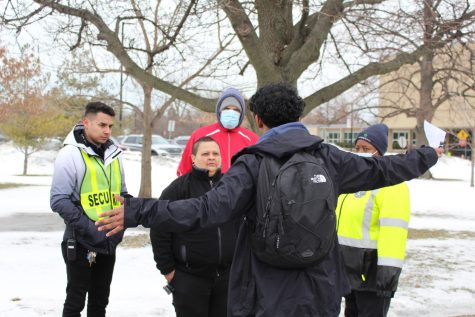 Following the auditorium protest, principal Dr. Karen Ritter sent an email to Niles West staff clarifying disciplinary procedures for students who elect to continue to go maskless indoors. Such students "will be disciplined for insubordination, disruption, and/or a safety concern, not because they are protesting. Students decided yesterday that sitting in the auditorium was not the best way to exercise their right to protest and right to free speech. We are encouraging the students to speak with us using alternative ways to peacefully and safely protest."
In a separate email, Ritter advised all staff to "allow [students] to leave to join the protest if they choose to do so-this is their right." 
According to a participating student, a parent created a GroupMe group chat for parents and students to discuss the plan. Communication on this group chat has been active for the past three days. 
"I decided to protest because I believe our children have certain rights. I am actually a Niles West alum, the class of 2006," Raul Tomsa, a participating protester, said. "I'm not a protesting type of guy. I'm not really an agitator, but I believe that there was a correct ruling made last Friday. I think it would be the best decision for the school board to make masks optional. We're not telling them to unmask everyone, just for the kids that don't want to wear a mask. We believe that science is on our side and that they should have that choice."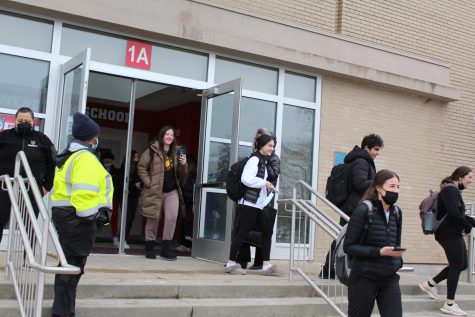 According to Ester Tomuta, a parent of an eighth grader, "I am protesting because my son is going to enter Niles West high school in the fall. Masks do not work. I'm actually a nurse, but I've been let go from NorthShore because I am not vaccinated, but I have antibodies. I believe in what I have practiced for 18 years, and they said that it is not correct. Masks do not work. You have a choice to get vaccinated; you have a choice to wear a mask. I understand that it's not something that should be mandated or required."

According to the Centers for Disease Control and Prevention, "Antibodies are proteins created by your immune system that help you fight off infections. They are made after you have been infected or have been vaccinated against an infection. Antibodies can protect you from getting those infections for some period of time afterward. How long this protection lasts is different for each disease and each person."­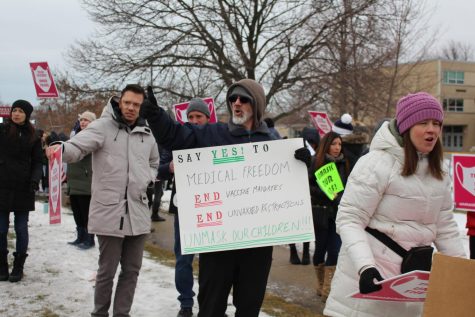 Some protestors believed that the administration wasn't handling the mask mandate situation properly. 
"They're not taking into consideration how the kids and parents feel. No one gets back to us when we email the administration. Threats are going to the kids that want to speak out. They feel that there will be a target on their back. Suspensions for not wearing a mask is not the way to do things," Niles West parent Athena Paulos said.
Others, however, disagreed with the protest and walkout. 
"I feel like the protests are really insensitive. I understand no one wants to wear a mask, but when you have people in hospitals dying and doctors risking their lives to take care of sick people who can't breathe, who gotta wear masks for more hours than we [do], then it's a problem," sophomore Nadia Ahmed said. "Our principal says we shouldn't call them names, but she's worried about the wrong problem. There are real social issues at the school that have never been addressed." 
Student protestors left the building shortly after homeroom, 10:41 a.m., through door one. 
"Since every other school around our area walked out, we needed to set up this walkout so that we can get the freedom of having optional masks," junior David Ardelean said. "We're not asking to remove the mask mandate; we're just protesting to make it optional."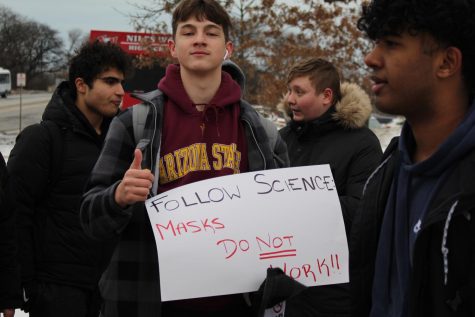 As protestors left the building, there were clear displays of disagreement by West students. 
"I find it so disrespectful and irritating because how are we going to do this during black history month when black people aren't getting enough attention in this school," freshman Hosanna Rezena said. "How are you going to take off your mask when millions are dying outside of school? That's inhumane."
Other students think masks should be worn as long as the mandate is in effect and disagree with the notion that mask mandates are oppressive.
"I think that if you wanna wear a mask, do it. If you don't want to, then you shouldn't have to. However, it's a rule, so I'll follow it until things change, senior Tarek Mahfoudi said. 
"I do not support this form of 'oppression' because we wear a mask for a purpose, to protect us, other students, and people around us. This is just going to give us another reason to shut down schools and other public places. If people aren't happy with wearing a mask, then they can stay home," sophomore Carina Julio said. "This is a disruption to our education because instead of putting all our focus towards the bullying and the actual current events that are happening, people want to be ignorant and try to make a problem out of something that will be fixed over time. This protest isn't going to fix anything but cause problems." 
The demonstration ended at 11:45 a.m. after protestors reached the hour mark. After that, students either returned to classes or went home. It is not confirmed whether or not another demonstration will occur in the future, or whether any students were in fact disciplined for insubordination. 
---
Managing Editor Emily Chin and Staff Contributer Emma Kalchik contributed to this article.