BREAKING NEWS: Mandatory Masking Suspended at West Beginning Feb. 28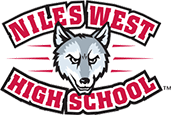 District 219 families and staff were notified that D219 will be "suspend[ing] mandatory masks on Monday, February 28 and recommend masks," per an afternoon email from superintendent Dr. Steven Isoye sent out on Feb. 21. "This is aligned with the lifting of the indoor mask mandate in the state," the email continued. "The timeline allows for any new responsive guidance to be released and for us to prepare our schools. As the circumstances of the pandemic remain fluid, the suspension may be temporary and subject to change based on outcomes of litigation and/or guidance from federal, state and local health departments." 
As of Feb. 28, masks will no longer be required for students and teachers, but will be recommended. The email mentions how some families will be grateful for this change and others will be unhappy. "We as a community need to be a community of care for each other," Isoye wrote.
The email also addresses that there are families in the district that have varying circumstances, including "immunocompromised loved ones" and "multi generations living under one roof," and that no negative comments should be directed towards anyone regarding their decision to wear or not wear a mask.
"Knowing the diversity of our community, it is important to respect the choices made by all individuals regarding masks. I ask that our students, staff and community understand that no bullying, harassment or judgment should be made about a student, or staff members choice of wearing or not wearing a mask," Isoye wrote.
Along with COVID-19 protection reminders and protocols, the email said that masks are still required on District 219 school buses as it is a federal mandate from the CDC. In addition, Isoye wrote, "There will not be any option for hybrid or remote learning for individuals concerned about attending school. The Illinois State Board of Education is clear that in-person learning is necessary for an attendance day. Special circumstances include: adaptive pauses or emergency days." This sparked concerns for several community members.
Shortly after the email was sent out, a petition was shared throughout social media called "Make virtual learning possible amidst lifting the mask mandate." The petition currently has over 500 signatures. The petition, which was created by Niles West alumna Lesley Ongyaco, states, "All students, mask or not, have the right to an education. As there will be an option to forgo the mask-wearing inside school buildings, I ask that the schools also provide an option for students who are worried about the transition between mask mandate and mask recommendation to attend school virtually, so as to foster a safe environment for the community as a whole."
Towards the end of the email, resources were provided regarding anxiety management for those experiencing troubling thoughts.