Niles West Esports Takes a Trip To State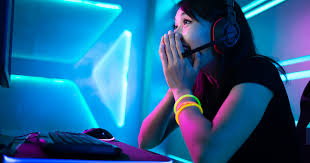 After starting only two years ago, the Niles West eSports program is fully settled and ready to compete. After placing fourth in state this year for Valorant, the team looks ahead in hopes of putting this program on the map next year.
Sophomore Adam Chen believes that this team will improve even more next year.
"I feel that we can build on what we have this year as the majority of the team were sophomores this year. Unfortunately we are losing two players that are seniors. But this also keeps the majority of a strong base that we had built from the beginning of the year," Chen stated.
Chen believes that they became a successful team later in the year especially leading into the postseason.
"We were successful this year due to the hard work that we put in during the postseason. We did tryouts early to maximize the amount of time we had to practice, come up with strategies, and have a feel for how we played with each other," Chen said.
Utilizing what they learned from this season, sophomore Nathan Magsino is in full acknowledgment of what they need to build on.
"Going into the next year, we're going to have more structured practices, as a lot of our players had extracurricular's that got in the way. This was our first year playing together so we're gonna take what we learned from this season and bring it to the next," Magsino stated.
Teamwork is one of the most important skill sets a team needs to develop, Magsino believes that this is something they can improve on.
"I would say our success came from the individual skill of our players, rather than basic team play, which is also something we have to work on," Magsino said.
For head coach Ali Sayed-Ahmad, the team has made a huge jump from where it began just two years ago.
"Especially in Valorant there are players on that team that have only been playing together for two years now, so they understand each other strengths and weaknesses," Sayed-Ahmad stated.
Sayed-Ahmad was very proud of the leadership of the team.
"I would say I'm very proud of the leadership, Chen and Syed Ghazi were the co-captains and did really good at organizing practices."
After such a strong season this year, the team is looking to make an even bigger leap and win it all. With many key players returning to the program, the team believes that their teamwork will improve and create even more success for the Niles West eSports program.