Jacalyn Lipka and Her Impact on Niles West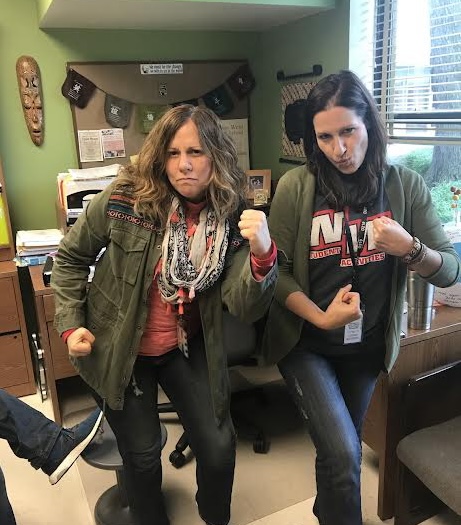 Her office is adorned with sticky notes, she has a rug and couch, and Jacalyn Lipka welcomes students into her office. Lipka has been a social worker for the past 30 years and as she says goodbye to Niles West, she recounts her favorite memories.
For the first 13 years of her career, Lipka was a social worker at North Cook Young Adult Academy where she worked with kids that were previously expelled from school. For the past 17 years, she has been employed at Niles West High School.
Lipka feels that her work at North Cook Young Adult Academy and Niles West was very different because North Cook Young Adult Academy was much smaller and had a different atmosphere.
Lipka introduced how working with high school students is unlike working with grade school students.
"High school students get to create their own future and independence," Lipka said.
"Even though there are obstacles and trip-ups starting off in freshman year, I really internalize coping strategies and perspective-taking. I enjoy watching that grow, and feel like it is beautiful. I feel honored and privileged to be that person to know someone enough where they share and trust you with sacred information."
Over the years Lipka has worked with numerous amount of students. She loves how impactful it is when she recognizes the development of her students. For example when they request to follow her on Instagram.
"There was a student I talked to who had body issues, but because we are friends on Instagram I got to see how much she grew and I saw her wedding photos and how she started a business. It just made me cry and see the place she is now."
Lipka loves keeping in contact with her old students. She had another student who was gay, but her family was very religious and un-supportive of her sexuality. "On social media, I now get to see her and her wife with their two beautiful children surrounded by her now supportive religious family. That is what's so unforgettable about this job," Lipka says.
In every teacher's career, they spend not only lots of time with the students but especially with their co-workers. Lipka is unhappy about leaving her staff members behind. Her co-workers are essentially her family.
"I feel like a mom to them, which makes it even harder to leave. There really only are 7 of us here working as social workers. We deal with very intense things like homicide and suicides, which allows us to be very cohesive and close to one another. That intensity has led to very close relationships," Lipka says. 
"Working with Ms. Lipka has been one of the biggest highlights of my time here at Niles West. Ms. Lipka epitomizes the field of social work in every possible way and I look up to her and admire her for the care and empathy she spreads to all of the students and colleagues she comes across. All of us in student services will miss working with Ms. Lipka very deeply. She has been a rock and a leader in our little work family and always brings so much laughter and joy to our department. But she won't be leaving our lives as she has become a very dear friend to me and the rest of us in Student Services," Chantel LeClaire said.
Mary Leonardo had many shared memories with Lipka at Niles West. "There are no words to truly describe how much Ms. Lipka will be missed.  Not only is she an amazing social worker, but she is also a great friend and colleague.  She is our go-to person in the department and she will do anything in her power to advocate for everyone in this building – both students and staff.  The whole student services team has learned so much from her! We will never forget her fierce and sweet personality. We will never forget her fun, witty sayings and we will truly miss seeing her walking down the hallway in her super cute outfits with Starbucks in her hand."
Jennifer Hahne is sad to see Lipka go and will miss her very much. "I have worked with Ms. Lipka my entire career at Niles West.  She is a friend, mentor, and someone I look up to.  She has taught me so much!  She stands up for what is right and is truly the heart of our department and will be missed dearly.  Her legacy and teachings will always be a part of this department and I know there will be times when we will say 'What would Jackie do?'"
Lipka has many post-retirement plans. She took up skiing a couple of years which is why she and her husband will be buying a house in Colorado. Lipka has kids still in school, so she and her husband will only be there half the time.
"During my spare time and the rest of my life, my only goal is to live life joyfully," Lipka says.