West Reacts: New Parking Lot & Parking Passes
In order to create more parking for students, the school has sectioned a new area for student parking. There have been complaints about a lack of parking and students creating their own spots. The new area is behind the school, the South Lobby side, and behind the teacher parking lot.
There have been reports of students parking in the front lot without a parking pass. Students who have bought the passes have brought complaints to the administration about this.
"I have a pass and I think it's completely unfair. It was $300 that did virtually nothing. To go and punish people without a ticket now is also unfair, they were able to get away with it for a year. Why should any party be punished for a like done by the school? The new parking lot was also a problem. It isn't worth $300 to not be able to get into the school from that side," Joey Brocar said.
Students who arrive at school at a later time sometimes find no spots at all. At one point, students made their own spots.
"I have gotten a warning before because all the spots were taken and there was nowhere for me to park," student Melanie Brill said.
"I have a pass personally, it was annoying trying to find parking. I come from Niles North first period so finding a spot during 3rd period is really hard," senior Timmy Melfi said. "I did get a warning because parking in the back was not open so I had to make my own parking spot near the football field."
Those who parked without a pass were rarely given warnings.
"I get the thought process behind parking without a pass, I wouldn't have bought a pass if I knew there wouldn't be any real enforcement of having a parking pass," Decklan Barnabas said.
"I have a pass and I think it's unfair that people without passes are taking up the parking spots without getting a warning or repercussions," Niyati Bhandari said. "I haven't gotten a warning before but I haven't seen that many being given out either. The only time I saw a warning was when people were making their own parking spots a couple of weeks ago."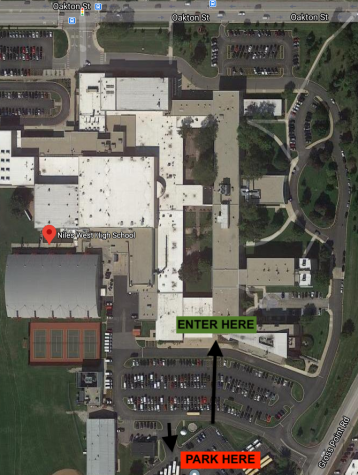 Some students like the location of the new parking lot.
"Yes, I use the new parking lot all the time, it is so convenient. My 9th period is in the science hallway. Before parking there, I would have to walk across school and by the time I got to my car, the traffic was horrible and it would take me at least 20 minutes to get out. Now that I can park in the back, I am at my car and out of the school within 7 minutes," Brill said.
For other students, it is not an ideal spot.
"I have to use the back lot now but it is definitely an inconvenience at the end of the day because most of my activities after school end in the front,"  Melfi said.
Students have agreed it was a good implementation, but could have been done earlier in the year.
"I feel like the new parking lot was a good idea but the school could've done more in the beginning to enforce the parking rules," Barnabas said.