Sydney Dao Kicks to the Finish and Breaks School Record
Student athlete and senior Sydney Dao broke the 100-yard breaststroke time at the girl's conference meet, on Monday, Oct. 31. She broke it with a time of 1:06.67, beating the previous holder Lian Fang in 2020 with a time of 1:07.03.
Dao has been a varsity swimmer since her freshman year. She has won many of her races this year, often having the fastest splits at meets for the 100 breaststroke, according to Dao's Head Swim Coach Kristin Kowalczuk.
At the meet Dao wasn't expecting to break it, and was shocked when she found out, "I remember looking up and I saw it and like honestly at first like it didn't even hit me I like looked up and all of a sudden I just heard like yelling and I got out and everyone just came rushing towards me so that was really really sweet," Dao said.
"Sydney leads by example and has served as a great role model for girls on all levels of this team. She has made a big impact on the varsity squad over the years. She is a hard worker in all she does, both in and out of the pool," Kowalczuk said. 
In her junior year, Dao placed 3rd at sectionals and was named MVP. She holds the team's top time in 10 out of 12 events and is now the school's holder for the 100 breaststroke time. Dao was also very successful academically.
"Outside of the pool, [she has a] 3.96 GPA with a weighted GPA over 4.0, she is well rounded and involved in many extracurricular activities and has many hours of volunteer work," Kowalczuk said.
Swimming isn't just a sport to Dao, but also a way to have a fun time. The girl's swim team was very closely bonded this season, always cheering each other on. This year all the swimmers attended the freshmen conference where everyone dressed up and made posters to cheer on the freshmen on the team, it was one of Dao's favorite memories this season.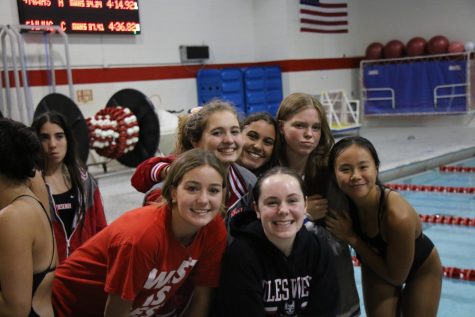 As it is Dao's last year to be with the team many of her teammates will miss her greatly, "Sydney was an amazing team leader and was always like cheering us on, we are going to miss her next year, it just won't be the same without her," sophomore Autumn Rehfeldt said.
"Honestly was one of my favorite seasons. The energy was there all the people this year was super super outgoing and really nice and we bonded very well," Dao said, "I feel like everything was very memorable for me just like as a senior you know if you realize how it's coming to an end."