Wild Turkey Finds a Home At Niles West
This November, there have been frequent sightings of a turkey roaming the streets of Morton Grove by residents and Niles West staff members and students just in time for Thanksgiving this Thursday. The turkey is most often seen in the Niles West parking lot, sometimes blocking oncoming traffic from Oakton and becoming a slight hazard for cars driving near Niles West.
"After coming home from a long day of work, as I was pulling into my house, I noticed a turkey crossing the road and I slammed on my breaks. I was in disbelief because it was the first time I had ever seen a turkey in the Morton Grove area, but that's not a problem because I'm actually in need of a turkey for Thursday," senior Antonio Greco said.
Niles West's long-time facilities manager, Marcus Holleran, provides insight into the turkey's whereabouts at Niles West.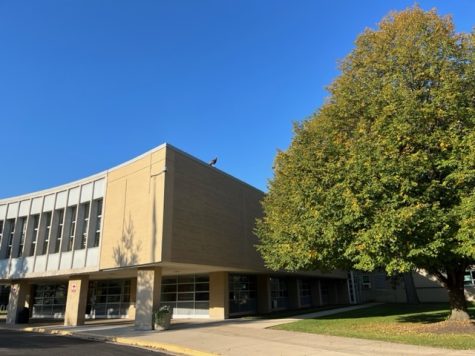 "Our feathered friend, the turkey, has been here for a few months," Holleran said. "He usually hangs out, or she, I'm not really sure, between door three and door six. Most days we shoo it away, it flies up into the trees, and then it comes back the next day and just kind of hangs out. So we're seeing it as our school mascot, so we're going to leave it be," Holleran said.
The local turkey has gained much attention on Facebook from the moms of Morton Grove who have been sharing their photos with their friends and neighbors to see. Hashtags such as #wildturkey and #dinnerisserved have been spreading pictures of the local icon. 
Niles West's theater department also reported a sighting of the infamous turkey.
"Right now we are in the middle of a production where our students are directing one-act plays and some of them have been rehearsing up in the auditorium balcony. One day I was headed up there to lock up and a bunch of my students who were rehearsing up there were like 'did you see the turkey?' and I was like 'no I haven't seen the turkey what turkey?' So we ran up to the auditorium balcony and right by the art gallery up there, there's a little overhang that overlooks door one, and the turkey was up there sitting looking like batman perching out over Gotham City, but it was the Niles West parking lot," said Samuel Rosenfeld, theater teacher, and director at Niles West.
As for the name of this turkey, various communities within the area have created their own names for it.
"We were kind of fighting about names for the turkey and someone yelled 'Harold!' and we decided collectively to name the turkey Harold Dobbs. But we also know that many other people have given the turkey different names, so right now I am very interested in what we as Niles West are going to do to name the turkey," said Rosenfeld.
Be sure to take a drive near Niles West to take a look at the turkey before it possibly disappears by Thanksgiving this Thursday!