Zainab Ahmed: Niles West's Own Van Gogh
When it comes to making art, most see it as something recreational and just for fun. For a special few, finding passion in art grows far beyond the art classroom. Senior Zainab Ahmed is one of these special few.
Ahmed is one of the top five art scholarship recipients in Illinois, which was awarded earlier this semester. She feels very accomplished. "I put a lot of time and effort into my artwork. It was nice to see that my hard work paid off. Painting is a big part of my life. For me, painting is a way of expressing my inner thoughts and feelings in a way that words themselves can't. It's also a way for me to connect to my identity and culture. And above all, it's a form of therapy and happiness for me," Ahmed said.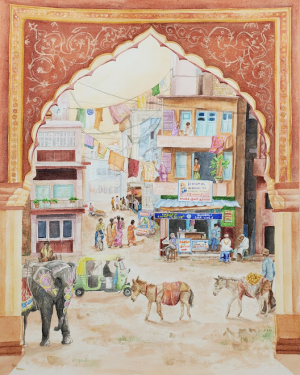 Ahmed is particularly proud of one of her paintings, "A Cultural Narrative and Portrait of India." Being of Indian descent, Ahmed felt in touch with her roots when creating the painting. Though Amhed has never been to India, this piece helped her feel a deeper connection to her culture.
Ahmed has excelled in the art program, especially in painting. Her dedication, work and efforts don't go unnoticed.  "She is a great example for the program in general, from top to bottom, for the incoming freshmen to see the work she creates, the time she puts into it and the time needed to be awesome. It does take a great work ethic and a balanced life," art teacher John Zilewicz said.
Not only does Ahmed excel in the art room, she expresses herself in communities outside of school. She used her art to start a henna business to raise money in order to help people affected by natural disasters. Ahmed also created an educational poster campaign featuring Muslim women that has been displayed at interfaith events across the country.
"Zainab is incredibly intelligent and is an exceptional artist.  She seeks opportunities to push herself outside of her comfort zone," counselor Carla Green said. Green enjoys conversations with Ahmed and seeing her bright and sincere smile. She looks forward to seeing all of her accomplishments after high school.
Congratulations Zainab and best of luck with your post-high school plans!