Dance Marathon to Sell Candy Grams
By Mara Shapiro
December 12, 2011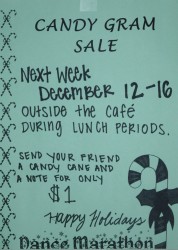 Dance Marathon will be selling Candy Grams starting Monday, Dec. 12 through Friday, Dec.16 outside the Cafeteria during lunch periods.
Dance Marathon sponsor Jessica Ogulnik thinks thanks sending a Candy Gram is a nice gift for a friend.
"[Students] should buy one if they want to give a nice note to a friend," Ogulnik says.
Junior Executive Basia Gawin agrees.
"Everyone should buy a Candy Gram because it's a good way to show your friends that you care while at the same time supporting a very important cause," Gawin says.
 The combo of a candy cane and a note for a friend costs $1. The Grams will be distributed during homeroom the week before Winter Break.
All proceeds go to Special Gifts Theatre.