The Girl Behind the Pikachu Suit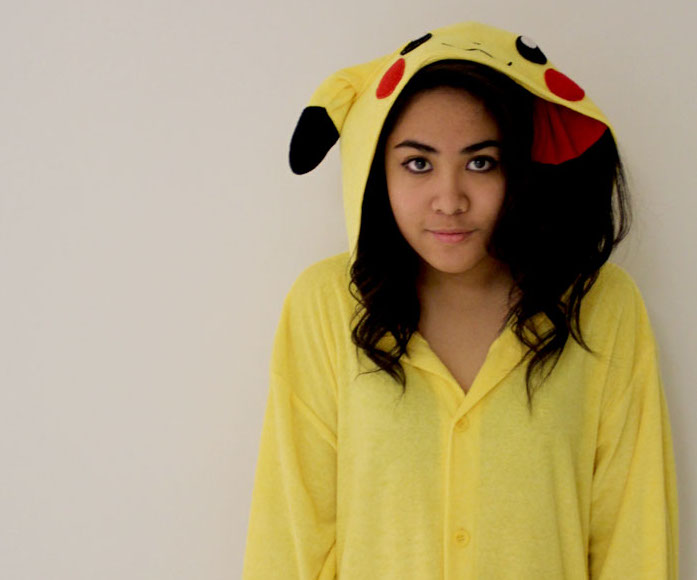 By Gabrielle Abesamis
January 10, 2013
[dropcap]S[/dropcap]ophomore Sharon Pasia walks through the halls, her long, dark, and teased hair just below her shoulders. Some days, you might see her clad in vintage apparel, skirts with a lot of tulle, or her famous one-piece Pikachu suit.
"The Pikachu suit is actually one of my lazy day outfits," Pasia said.
Pasia wears almost anything other than the "average" jeans, sweatshirts, and t-shirts, like most of the students in the school; she isn't one of those students that people just pass by and forget.
"
"I knew I was going to like her from the beginning when she came to my theatre workshop class wearing her bright yellow Pikachu costume.  Her originality, balanced with her caring nature and natural talent, make her not only a bright spot in our school but also someone who you would want to be friends," theatre director Andrew Sinclair said."
According to her cousin, sophomore Julia Nejman, Sharon started "expanding" her style towards the end of junior high. She started getting into anime and artsy things.
"It's funny to hear people say 'did you see that girl wearing the tutu?' and I would respond, "The one with the bow in her hair? Yeah, that's my cousin," Nejman said.
Being one of the best trendsetters in Niles West, her secret to being best dressed isn't that big at all. Sometimes, she even wears her mom's clothes from the '80s.
"I have many favorite places to shop! So I'd have to say Salvation Army, Ragstock, Forever 21, and the Internet like Taobao, EBay and Etsy [are some of my favorites.] My must-have accessories are my bows, a pearl necklace, a silk sun-flower, black and white striped tights, and my golden fish belt," Pasia said.
Besides Sharon's bold style, there's definitely a lot more to her. Ever since freshman year, she has been a part of the Niles West Theatre onstage and backstage.

"Theatre has helped her step out of her shell a lot more. It's the thing that she loves to do. She's grown so much as an actor and singer and just a performer in general. I'm glad she got so involved with theater. Her personality didn't change but  more people get to see the Shawie that I love and dealt with my whole life," Nejman said.
"As an actor, I love working with her, because she brings an energy and presence to state that I feed off of. Sharon is a very beautiful person, physically and intellectually, and she never flaunts it," junior Surdeep Chauhan said.
She's also full of other surprises, according to her best friends.
"Sharon is secretly really funny. In our last production, "Adventures of Freddie the Frog," her big role was an orangutan that had zero lines. Sure most actors would look at this as a situation where they are unimportant, but Sharon brought her character to life," Chauhan said.
"She likes doughnuts and meows a lot," sophomore Mira Berkson said.
"She has the most unexpected singing voice. It's so lovely. I'd hear it during Freddie the Frog rehearsal, and I'd be like 'what?'" junior Lila Gilbert said.
So, under the Pikachu suit, anime clothing, and behind the girl with the spunky style, is a girl with a shy personality, plenty of good friends, and a lot more to offer in addition to her fashion sense. It's no wonder she stands out in the crowded hallways.
"Sharon is one of the most unique people I've ever met. She doesn't care about other people's opinions which is why we're such good friends. Her intriguing style simply reflects how interesting she is as a person and an actor too," senior Emma Zivkovic said.