Dance Marathon Announces New Beneficiary
By Mara Shapiro
June 1, 2012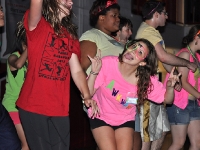 Dance Marathon announced its next year's beneficiary to be Rustic Falls  on Wednesday, May 30.
Rustic Falls is a nature camp for at-risk-youth, cancer survivors, and physically and mentally disabled children and adults. Some activities include horseback riding, fishing, and basketball.
One of the sponsors of Dance Marathon and student activities director Jessica Ogulnik says that the charity was chosen because isn't well known, yet helps many people.
"Rustic Falls is an organization that has little to no overhead.  They work by using volunteers.  All groups come to the camp free of charge, and are fed, sheltered, and given respite from whatever is ailing them.  It's a great charity that had a great presentation, and the students chose them for many reasons,' Ogulnik says.
Junior Executive Basia Gawin is pleased with the charity choice.
"I was really excited to find out that the charity for next year is Rustic Falls. It is an amazing charity that we can have a big impact on. I just wish we could help all the charities that were nominated," Gawin says.
Ogulnik says that the selection process isn't easy.
The charity selection process is actually really complex.  The first round we take our applicants (around 70 this year) and have a 3-4 hour discussion about all of them and vote multiple times to whittle down the list to 6-7 charities.  Next, we meet a few weeks later, and those 6- 7 charities come in and pitch themselves to our exec students.  The students then ask them all sorts of challenging questions about overhead costs, salaries, the number of people they affect, etc.  Then the students vote, and that's how we chose."
The dance will be held over Memorial Day weekend, Saturday, May 25 , next year at Niles North.