Leaders of the Pack: Varsity Track Jump Starts Its Season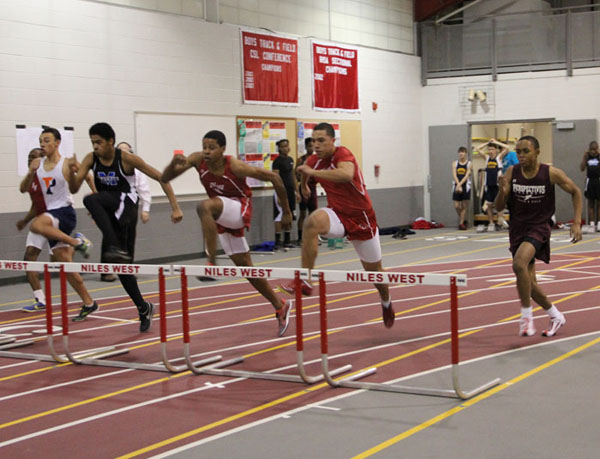 By Danny Thompson
January 24, 2013

Running season has finally arrived, and in honor of the upcoming events, the NWN decided to sit down with Varsity girls track coach Mark Medland, as he sits behind his desk in the counselor's office and thinks back upon what initially got him into running.  He says that it was just the right thing for him, that he had a feel for it.  Upon noticing my Jimi Hendrix t-shirt though, he begins to elaborate.
"All my brothers went the music route.  I had three brothers who were all very talented musically.  Since I wasn't talented musically, I went the running route," says Medland.
As a high school runner at Rockford East High, Medland ran both track and cross country on competitive varsity teams.
"With distance running there was kind of a feel that I got into.  It was the right thing for me.  I was able to find something that fit," he says.
After high school, Medland went to college at Eastern Illinois University.  Although he did not continue to run competitively, he kept in touch with many of his old teammates and continued running as a hobby.  Keeping in touch with other runners has allowed Medland to form many connections that help him in coaching the sport today.
"You see these guys 10-20 years later and you see them coaching other teams.  A lot of these guys I know.  You begin to develop a connection with them and learn more about the game," he says. "You find a community of runners and through that community you meet various people and learn that they are either open to coaching with you, or for other teams."
Before coming to Niles West, coach Medland worked at many Chicago schools and suburban schools, including Waukegan High School and Golf Middle School.  At Golf, in addition to coaching track, Medland coached other sports including volleyball.  As coach Medland puts it, he didn't know much about volleyball beyond that the goal was "to hit the ball over the net."  This encouraged him to continue pursuing running.
"When I was hired [at West] as a counselor, they'd heard about my background in running so they hired me as an assistant coach." Medland says.
Medland was initially a cross country coach, but gave that up when his first daughter was born.  He continued coaching long distance track events as well until injury forced him to move to hurdles and begin looking for additional coaches.  Recruiting coaches who have different specialties has helped Medland to further his knowledge of the sport beyond his own strengths.
As a coach, Medland considers himself lucky to coach athletes who are self motivated.
"What has made it nice for me is that I always get a group of girls who are dedicated to getting better," he says.
One of the most rewarding things for Medland is to see his runners hard work and dedication pay off.
"It's nice when a girl is able to find her niche here and succeed.  Right now that's the fun part of it.  It's fun to see kids succeed.  That's been the reason for me to continue on.  It's fun," Medland said.
The job is not without its drawbacks though, as Medland admits that there have been times when his personal life and coaching career conflicted.
"There were times when it was my daughter's birthday and I'd be away on a Saturday meet.  I'd always get there, but I'd get there late."
As far as the future is concerned, Medland wants to continue coaching.  He says he would miss it if he stopped.
"It keeps me young," he says with a grin.

On the boys side of track and field, the team is coached by Chris Vivone.  Coach Vivone looks at track from the perspective of a football coach, using it to keep his players in shape during the off-season.
Vivone began  his coaching career at Lane Tech, where he coached both girls tennis and track.  Following that, he was hired as an assistant football coach at West.  Vivone soon became the head track coach as well.
Vivone coaches many of the same players in both track and football, but his approaches in the two sports are very different.
"In football I would definitely say I'm more intense.  In track it's not so emotional as it is in football.  In track there's almost a science to it.  If you're constantly on guys, their bodies will begin to break down," Vivone says.
Understanding the differences between the two sports is what has allowed coach Vivone to be succesful.  Both sports require game plans, but as he explains, track requires a much more extended outlook.
"What you do right now [in track] may not pay off tomorrow, but in two weeks.  It's much more involved over a span of time to get the guys ready," he says.
Both coaches Medland and Vivone work together and bounce ideas off of each other often.
"We have a good relationship.  We talk a lot of philosophy, concepts, and different approaches.  He's a good person to get ideas from," Vivone says of Medland.
Coach Medland seconds this.
"I think he's great, I've learned a lot from him because of his background in long jump and triple jump.  I definitely go to him to learn things," Medland says.
Both coaches are looking forward to the upcoming track and field season, and with coaches like themselves leading the way, you can understand why.