Saturday's Game a Roll through the Meadows for Varsity Boys' Basketball Team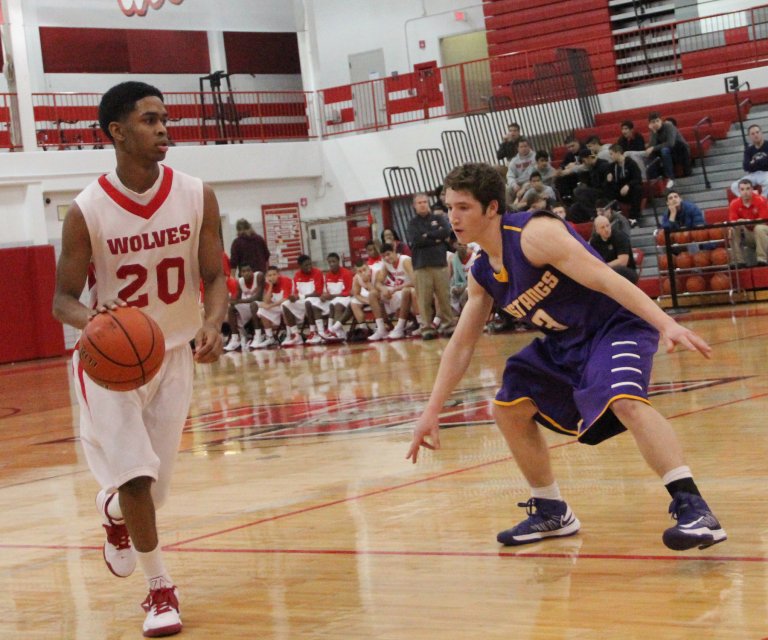 By Vinny Kabat
January 15, 2013
The boys' varsity basketball team annihilated the Rolling Meadows Mustangs in a 58-41 victory Saturday, Jan. 12 at home.
West wasted no time going to work on their inferior opponent right from the get-go. Coach Bob Williams drew up a defensive press play that led to repeated steals on inbound passes, prompting the Wolves to put up 10 points before Rolling Meadows managed scored a single point.
"The press was very effective in creating a style of play that allowed us opportunities to score," Williams said.  "We got several baskets from turnovers and we were more aggressive because of the press.  Also, I believe it wore down the other team and allowed us to benefit from our outstanding conditioning."
To say Niles West's defense was smothering would be an understatement for the first quarter — Rolling Meadows scored a mere two points all quarter (both from the free-throw line), and was held to zero field goals.
The second quarter opened with — you guessed it — Rolling Meadows struggling to inbound the ball. The Mustangs failed to crack the code to breaking Niles West's relentless press, and fell behind by 26 points at the half. Senior Alex Darville led the way for the Wolves with 12 first half points and two key steals that led to break away buckets on the other end of the court.
One thing coach Williams has raved about is the work ethic of his team.
"When you have people who are willing to work hard and play hard, you are bound to have a very good defensive team," said Williams in the Boys Basketball Team Preview.
Darville showed the fans exactly what his coach was talking about with the play of the game: the Mustangs broke away with what appeared to be an easy layup. However, Darville sprinted back, leaped high in the air and swatted the ball into the stands as if he was playing volleyball. The sound of Alex's hand maliciously hitting the ball echoed in the gymnasium for a good three seconds.
Niles West gave no mercy to their opponent. They went straight for the jugular vein in this outing, and made sure Rolling Meadows had no chance of ever coming remotely close to taking the lead. In a wire- to-wire victory, the Wolves picked up an easy win with a final score of 58-41. Senior Joey Younan led the team in scoring with 13 points.
This game was a great opportunity for Coach Williams and company to bounce back from the tough loss suffered at Waukegan on Friday evening- an opportunity the team pounced on.