Lunch Boycott Continues as Students Learn of $300,000 Settlement with Organic Life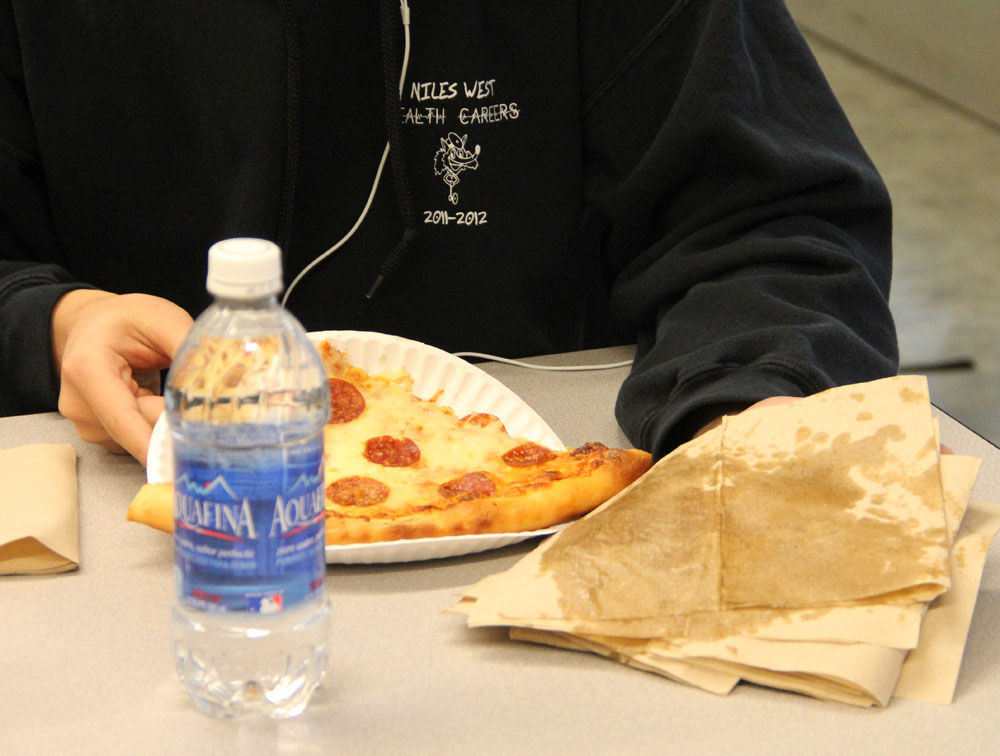 By Gabrielle Abesamis
January 31, 2013
Due to all the hype from #LunchStrike2013, the NWN  has learned District 219 gave Organic Life $300,000  in August 2012 during a settlement over a contract dispute.

According to the Chicago Tribune, Organic Life threatened to file a $650,000 lawsuit, after the school failed to pay for food enhancement and payroll and management fees.
District 219's public relations director Jim Szczepaniak said this morning that despite the fact most of the community was unaware of the litigation threat,  information has been public.
"We entered [the contract] with a few things left to be determined. After the first year of operation, there was still a  list of items of discussion," he said. "The main concern was management fees with the National School lunch program. We settled the issue of labor fees and fees from the enhancement of portion sizes. Even though we aren't a part of the National school lunch program, Organic Life is required to follow their portion and nutrition guidelines."
Students, who were first made aware of the lawsuit after junior Susana Montoya posted the Tribune article to the  Lunch Strike Facebook page, said they were unhappy to learn about the lawsuit.
"My parents work too hard and pay all these taxes so that I may receive this quality organic food. It's just not fair," junior Esteban Gavilanez said.
"We are victims of what seems to be an unfair monopoly since Organic Life owns our lunch room service. [Student] government is aware and that is why we wanted a meeting earlier which we got," junior and student government member Saleh Siddique said.
Student government plans to meet with district administration and representatives from Organic Life next week.
"You can see that the movement is actually turning into something very serious and it's addressing issues based on the cafeteria food," junior Benjamin Zenunovic, the creator of the Facebook page, said.
The Food Poisoning Bulletin also reports recent cases of salmonella at suburban schools in Cook and Lake counties that have been traced back to Organic Life.
"Two years ago [student government] agreed to Organic Life because it was healthy and we did see good amounts of food. What they are doing now is disgusting," Siddique said.
Szczepaniak said the district has had no concerns about food poisoning.
"We had no issue about [the salmonella outbreak] here. We looked at where [Organic Life] was getting their food and we went back to check [the situation] when we became aware of the issue," he said.
After two days of boycotting lunch food, students still plan to continue the "lunch strike" today, which appears to be gaining momentum based on Facebook page traffic.
"I think that strike still has the same purpose from the beginning. As a school we've come together on the page to discuss the issues of the school lunch and we have all agreed that change has and still is the prime purpose," Zenunonvic said.
Last night, a few students from Niles West posted on the Lunch Strike Facebook page that their family members (lunch ladies from Organic Life) got fired because they tried to help students by giving them more portions.
"This is our fight, not the lunch ladies'. Unless they did something that absolutely deemed being fired, which they didn't," Siddique said.
"I believe that people will keep fighting until the people who have lost their jobs come back," Zenunonvic said.
Though the students, District 219, and Organic Life have been unable to confirm the reason for the release of the employees, students are using this information as a reason to prolong the strike.  A spokesperson from Organic Life was unavailable for comment.
"What I'm trying to do is persuade students to not support Organic Life by trying to bring in their own lunches [because] Organic Life's proportions so unacceptable. After I had posted a picture that showed what they consider a decent lunch, people were shocked to just see what they served. People had had enough. It's unacceptable  especially in a high school environment. Also, I'm trying to convince everyone to use media, like using the hash-tag #lunchstrike2013 to spark a movement," junior Czarina Landicho said.
CORRECTION: An earlier version of this article mistakenly identified reported cases of salmonella in "Chicago public schools." That information is incorrect and has been fixed in the article. We also misreported that the contract dispute occurred in September. A settlement was reached in August 2012.