Interfaith 2013: What Would You Ask God?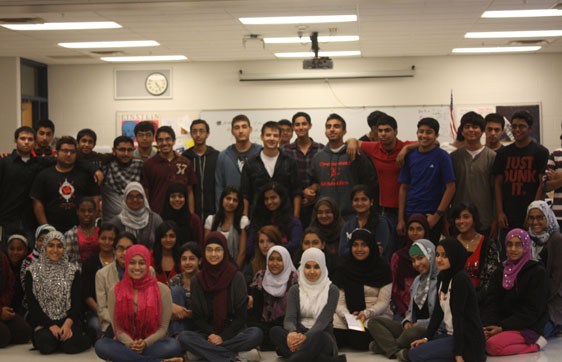 By Hafsa Wahid
February 11, 2013
In order to spread knowledge on different religions, Interfaith 2013 is scheduled to take place today Feb. 11 from 3:30 to 5:00 p.m. in the student commons.
Every year, Interfaith is held as a part of International Weeks. Niles West Quran Study organizes the event with the help of other religious groups, namely H2O. There are speakers from most of the major religions, this year's speakers include representatives from Islam, Christianity, Judaism, and Buddhism. The Hinduism speaker could not attend due to some conflicts.
"This year's Interfaith is centered around answering Niles West students questions about religion so we can learn more about our classmates and learn to respect them on a whole new level," senior and president of Quran Study Zarin Sultana said.
The Interfaith is based on a different theme each year. This year, the theme is more general as it asks students the question, "What would you ask God?" Previous topics have included "How religion affects your daily life" and "Defining the Divine."  Quran Study set up a table outside of the cafeteria on Thursday and Friday so that students could write their questions down.
Many members of Quran Study believe that this event will help remove misconceptions about our peers.
"[Interfaith] is also a way of getting rid of misconceptions that we may have about some of our classmates," Sultana said.
Senior and adviser of Quran Study Samama Mahmud agrees.
"Everyone has an opinion about religion or a superior being and interfaith is a great way for students to learn about and understand their peers opinions and beliefs," Mahmud said.
Usually a question and answer section occupies a very small portion of the event, but this year the entire event is based on Q&A because Quran Study's students believe that this will allow students to be able to discuss topics that interest them.
Pizza and other snacks will be provided, and everyone is encouraged to attend.