Breaking News: Niles West Principal Appointed Deputy Superintendent of Naperville District 203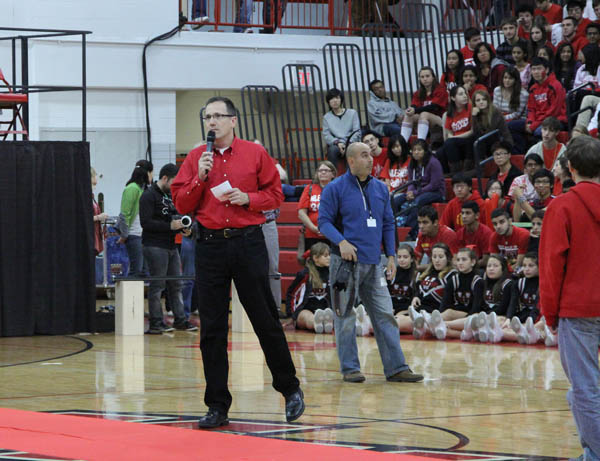 By Gabrielle Abesamis
February 5, 2013
Hang on for a minute...we're trying to find some more stories you might like.
After being the principal at Niles West High School for over six years, Kaine Osburn announced his end of the school year plans to depart from the high school and take on a deputy superintendent position in Naperville District 203 in a staff meeting this morning .
Before Osburn became the principal, he was assistant principal for a year, and before that position, he was an English teacher at Niles West for seven years.
"Leaving Niles West and District 219 is not without pain.  I have dedicated the last 14 years of my life to the students and teachers of Niles West.  No matter the difficulty, challenge, or triumph, every day it has been my honor and privilege to serve you here," Osburn said in a statement.  "One of the reasons District 203 chose me from among myriad candidates is because of what we have accomplished here – from curricular and RtI initiatives, Automated Course Placement, AP enrollment growth, STEM, Homeroom mentoring, The Literacy Center, and more."
According to community relations director Jim Szczepaniak, the district that Osburn will be working with, 203, is the eighth largest K-12 school system in Illinois. It has  22 schools with more than 17,000 students. Osburn's role is to to provide leadership for the district administration.
"What District 203 might not know is how much I have loved every day in the halls and classrooms and fields and theaters with you, the students of Niles West. I have learned so much from you and you have inspired me to work as hard as I can to improve this school, whether that is about school spirit, respect and diversity, food service, better athletics, better academics or more," he said.  "You have taught me more than anyone can about what it means to work in a great school, and I will take the gifts you have given me and make sure I share them with students and teachers when I am in my new position."
Osburn is scheduled to start his new postition on July 1.
"I love Niles West, and it will always be my first home," he said.
Superintendent Dr. Nanciann Gatta wishes the principal luck. 

"While we're sad to see Kaine [Osburn] leave, we wish him all the best in his new position," Gatta said. "He was chosen because of the excellent work he has done on behalf of our students, and the programs he helped us put in place to ensure that our students succeed after high school."
 A replacement for Osburn's position has yet to be found.