UPDATE: Organic Life CEO Admits Possibility of Inconsistency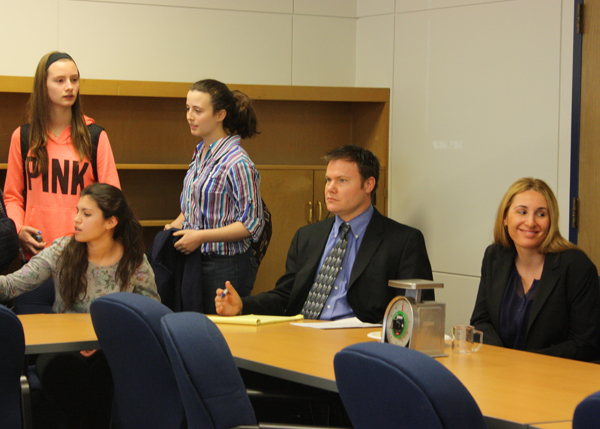 By Gabrielle Abesamis
February 7, 2013
Hang on for a minute...we're trying to find some more stories you might like.
After receiving complaints and concerns about the quality and quantity of the cafeteria food, Organic Life representatives had a meeting Wednesday, Feb. 6 with the student government and district administrators and admitted there might be an inconsistency with the servings.
During the meeting, Organic Life executives brought in a scale and a measuring cup that was similar to the devices used to measure cafeteria food portions throughout the country. They also brought in a sample green plate to show the correct portions.
"We're serving thousands and thousands of meals every day, so we expect that there will be inconsistencies. District managers work with their staff every day to make sure that they are getting closer to having the exact portions," CEO of Organic Life Jonas Falk said.
Falk confirmed the company has been following the criteria of the USDA guidelines and that they haven't intentionally decreased the quality and quantity of their service. He said it is a matter of perception.
"Perception is reality. We didn't direct anybody to do that, [change the portions]," Falk said.
LOW-COST MEALS 
According to the Organic Life executives, the green plate at Niles West is the lowest-costing meal at all the schools they serve ($2.75, which is a 50-cent increase from last year). High schools near Waukegan and similar areas have green plates that cost $3-5, Falk said. Niles West students also get fresh fruits and vegetables while the other schools pay higher prices and get canned food.
"The same panini sandwhich that we sell is in the cafeteria is in our restaurants for $3.95 while it's sold at our restaurants for $7," Organic Life vice president Joe Kreeger said.
The district and the Organic Life executives agreed the change in quantity was made in the beginning of the school year, when the USDA made new guidelines.
"If there's a change in quantity it's because we have a different contract," chief financial officer Khris Rull said.
Aside from making sure the consistency in the food is improved, there wasn't much that they could change with the portions.
"There's not really anything to change in the contract even if we wanted to. We have to abide these rules. We can increase portions, but we still have to wait for the USDA to make their move and say, "this is what the new portion requirements are going to be in the United States,'" Falk said.
The district and Organic Life have plans to ensure there is a consistency with the service of the cafeteria food.
"We check on it daily, we have someone check on outside of organic life to make sure all these guidelines are met," food service director Erica Arlinsky said.
STUDENTS REACT
Despite what Organic Life said, students are still firm in their claims in the months leading up to #lunchstrike2013 that the quantity and the quality of the food served in the cafeteria decreased.
In the beginning of the year they would give more [food]. it was warmer.It seemed like they stopped trying. After two months into the school year,  t hey had a lack of effort.  I guess they're trying to make it good now that there was a strike," sophomore Manal Razzak said.
According to Falk, the number of meals that students purchased decreased minimally last week, with about 100 less meals bought.
Since the beginning of this week, more students have been buying food in the cafeteria and students report that the portion sizes have improved.
"A kid at my lunch table today was saying 'you used to get half of it, now it's more,'" sophomore Delanie Kwiecinski said.
INCONSISTENCIES POSSIBLE
Organic Life executives said they are aware there was an inconsistency with the quality of the pasta sauce and the amount of pasta that is given to the students. They have plans on looking in to it. They also plan on communicating better with the students by having more signage in the cafeteria.
"If it's one specific thing, like the pasta area, there was only one person working in that area and they might have made the mistake of giving more," Kreeger said.
Last week, students also reported two cafeteria workers were let go for giving students extra portions. Organic Life has not confirmed these claims; however, Falk said it's possible some servers gave extra portions at times.
"The people who work in the cafeteria do it to work with kids, not to get rich. If they see kids are upset, then they might give extra scoops. They're still suppose to be following those guidelines," Falk said.
STUDENT GOVERNMENT RESPONDS
During the meeting, the idea of an athlete meal was also introduced to the company.
"It would be have more protein and more carbs for under $3.50," student government vice president and junior Stephanie Knorr said.
A question box will be put in the cafeteria so students can communicate with the company.
School board representative and senior Lyba Zia said she is confident Organic Life will tend to the complaints.
"I definitely wish the meeting was longer because I felt we only began to discuss the student concerns in depth; however, for the time we had, we were able to get many questions answered. I do think that Organic Life will make a greater effort to better communicate with students and this will allow us (the students) to bring our concerns directly to them. This will give us the chance to question them when, for instance, we believe that portions are no longer constant or the meals are not meeting the set nutritional value," Zia said.