Jason Ness to Replace Osburn as Principal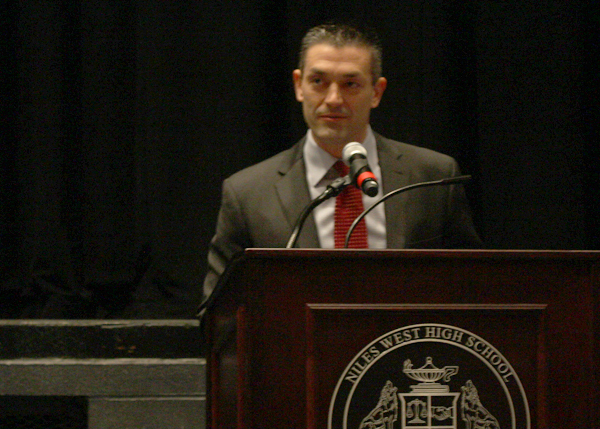 Assistant principal of student services Jason Ness will replace Kaine Osburn as principal of Niles West. The news was announced this morning at a voluntary building meeting for faculty and staff.
"I look forward to helping and leading here at Niles West," Ness said. "Thank you for this opportunity."
Superintendent Nanciann Gatta said she is proud that a new principal can be found within our district.
"We have the right person in our school to take the realm. [We] find him a great leader, approachable," Gatta said.
National college adviser Jerry Pope agreed.
"It will make for a smooth transition," Pope said.
The news was announced, but not before thanking Osburn for his services here at Niles West.
"We learned to rely on Kaine," Gatta said. "It saddens me to see him go. It's the end of an era for me."
The Niles West staff said they accept Ness as new principal.
"I've had the pleasure of working with [Ness] for the last four years," Pope said. "He is extremely capable. With [Ness] — and this was true for Kaine as well — it's always an open-door policy. He believes in transparency. I see it as a win-win."