Niles West's Cutest Couple: Randy Tran and Joerlyn Manalang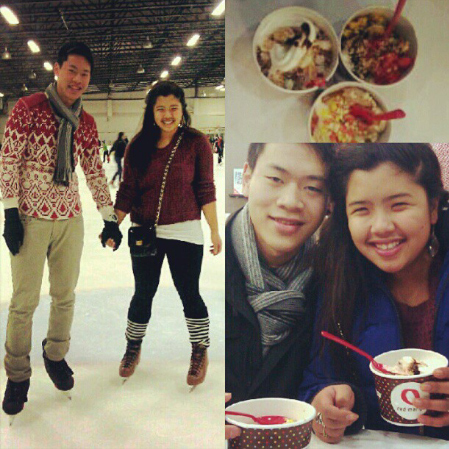 By Dan Poskus
February 20, 2013
Randy Tran and Joerlyn Manalang won the title of being Niles West's cutest couple last week with their picture racking up more than 1,300 likes on the Niles West News contest page.
Randy and Joerlyn have been together since seventh grade and have been going strong ever since.
"She is amazing," Tran said. "I am really lucky to have her."
Manalang shared that they met in kindergarten, but Tran didn't know that she existed until second grade. However, the two never really got to know each other until sixth grade.
"We started to get to know each other in sixth grade. We started to hang out and study," Manalang said.
While they were getting to know each other, Tran admitted that he "had a huge crush on her, so I was lucky I got the chance to know her better."
Eventually, they found their feelings to be mutual and they started going out. They've been there for each other ever since.
"She's always there for me," Tran began, "and he's always there for me," Manalang said.
While together, they like to do many different things.
"In the summer, we like to go to the beach and roam around downtown. We have a great time doing both. As long as I am with him, I couldn't care less about what we are doing, to be honest," Manalang said.
"In the winter, we like to ice skate, make hot chocolate, and watch movies together,"  Tran said. "We also like to make smoothies. She has a magic bullet, bro."
The cutest couples contest was a tough race, and the victors seemed seemed to agree.
"We feel grateful even though it was more stressful than we thought it would be," Manalang admitted. "We didn't want to start fights or anything, we just entered the competition for the heck of it. We did enjoy the fifty dollar gift card. We spent it on a nice dinner out," Tran said.
"We really enjoy each other's company, and I am really glad we found each other," Tran said.
"He makes me the happiest girl on earth," Manalang gushed.