Mary Mando and Niles West Choir Scheduled to Perform in Annual Spring Choir
By Athena E. Hilentzaris
March 19, 2013
Hang on for a minute...we're trying to find some more stories you might like.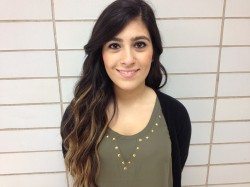 Mary Mando will be performing in the Choir's Spring Concert tonight, March 19, at 7:30 in the auditorium along with Gospel, Women's, Men's, Chamber's, and Masters' choir and Guys and Dolls, High Fidelity, and Echo Effect A Capella groups.
Mary might catch your eye when she's walking the halls because of her edgy fashion sense, or maybe because she's constantly humming, or even singing a song no matter where she is. She's constantly around people, and she's always the first to shout a hi across the hallway to her friends.
Mando attended a Catholic school until fifth grade until she transferred to Rutledge Hall, and then proceeded to Lincoln Hall, where she had her first experience with performing in the school's Chorale. Throughout her three years in the feeder school, she participated in the main choir since sixth grade, until she tried out for the Swing Choir, a select group of girls, in seventh grade and continued throughout eighth. She started acting freshman year of high school, and continued her singing experience sophomore year in Women's Choir, and has moved up to Chamber's even since.
"Performance arts like acting and singing has always been something I loved, and I've wanted to pursue it in college since the very beginning," Mando said.
In 2011, Mary took her passion a step further and auditioned for John Casablanca's acting and modeling school, where she got accepted and participated in throughout 2012.
"John Casablancas was one of the most amazing experiences I've ever had,"  Mando said.
Aside from spending most of her time in the arts, Mary loves hanging out with her friends. She will be seen in concerts from every genre, or maybe downtown, where she shops until she drops.
"The best thing about my best friends is that they like different things, so when I want to go shopping, I have my Fashionista friend, but when I want to go to a concert, or a play, I always got my artsy buddy," she said.
Not only do her friends support her 100 percent, but her family is always there with her, no matter what she accepts as her next challenge.
"Casablanca's was pretty expensive, but my parents want me to do my best at something I love, so they never second guessed it," Mando said.
Mary's next project is the school's musical, "Joseph and the Amazing Technicolor Dreamcoat," which will take place in May. She will perform a variety of parts, which will require singing, dancing, and hardcore acting.
"It's something I love doing, so it will always be a fun activity, [rather] than work,"Mando said.