Boys' Varsity Tennis Crushes Niles North 6-1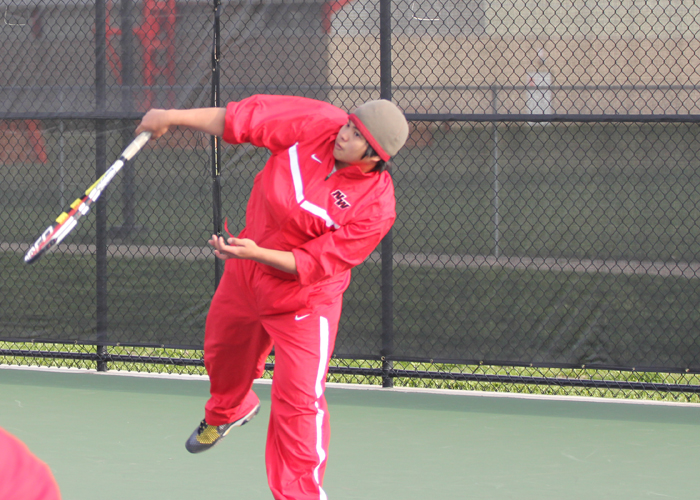 By Mara Shapiro
April 11, 2013
The dreary sky and the less than perfect temperature did not stop the varsity Wolves tennis team from taking down the North Vikings 6-1.
To start off his match, number one singles player senior Simon Kim dealt with a few short balls from his opponent, but stayed with him, playing consistently at the baseline as well as utilizing the net. Kim's final score was 6-2, 6-0.
"It was a battle against the elements," Kim said in regards to the weather.
Senior Robert Marohn and junior Percy Cabal took care of the number one doubles spot. Marohn's serves were consistent and hard enough that his opponents couldn't return them back to keep the ball in play, automatically giving him and Cabal points. Cabal and Marohn were both aggressive net players as well. Some frustration could be seen from off the courts, but in the end, Marohn and Cabal went 6-0, 6-1 in their match.
Marohn was overall happy with the way both he and Cabal beat their opponents.
"The match went really well. We were on the attack at the nets and hitting shots that they were missing. We were consistent at the baseline too," Marohn said.
Number two singles player sophomore  Jesse Sacks went 6-0, 6-0 in his match, making sure to run his opponent around the court
Number two doubles players seniors Stephen Kaatz and Jeremy Bergman were a good team, going net to net and baseline to baseline, eventually finishing up 6-1, 6-0. Freshmen number four doubles players  Aleksa Tubic and Dan Weiss won their match 6-1, 6-2. Number three doubles players senior David Park and junior Jay Elengical's match was a tough one. The duo won their first set 6-3, lost in the second set tie breaker with the score 3-7, and then came back for the third set tie breaker with a 10-4 win.
The team was overall satisfied with their win.
"They put up a good fight. It felt good to beat North," Bergman said.