Breaking News: Spring Pep Assembly Ends Early After Seniors Riot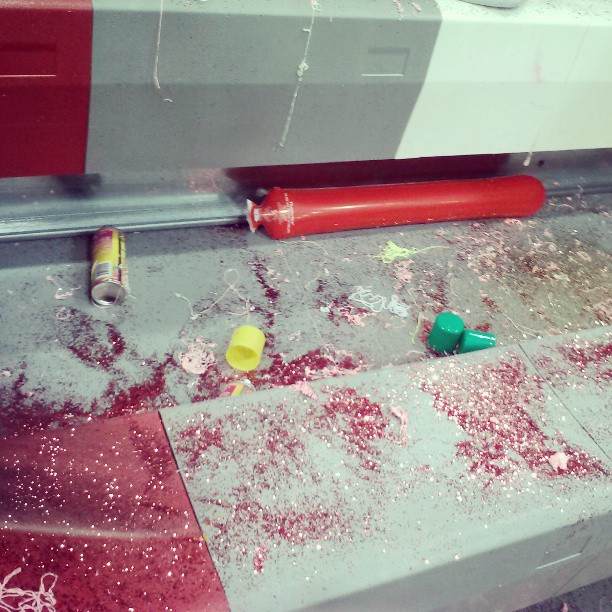 By Jackie Povitsky
April 19, 2013
After seniors rioted during the boys' gymnastics performance, throwing glitter, silly string, balloons, toilet paper, and streamers, principal Kaine Osburn ended his last assembly at Niles West, early.
During the first part of the assembly seniors remained quiet; however, during the boys' gymnastic performance, a senior stood up, and many seniors followed and began cheering and chanting "2013" — a plan that was discussed on Facebook. Once the rioting started, Osburn announced the assembly was over, only 15 minutes into it.
Student activities director Jessica Pritzker said the assembly was ended for safety reasons.
"This assembly became all about the seniors and their ability to celebrate themselves inappropriately," she said. "We were worried about the safety of students sitting in the section, and therefore ended the assembly as soon as the situation got out of hand. I am very disappointed that the celebration became one of selfishness and not a celebration of the students that worked so hard to prepare for it." 

The cancellation of the assembly came after several warnings, including an announcement at the end of eighth period that backpacks and bags would not be allowed into the gym to try to deter students from bringing in items that could be thrown.
Osburn explains why he cancelled the assembly in a special notice he wrote on his blog.
"Before the assembly today, on the PA I again emphasized that certain behaviors would not be tolerated.  Nonetheless, at an orchestrated moment 15 minutes into the assembly, between 100 and 200 seniors chose to disrupt the gymnastics performance with a prolonged expression of chanting, cheering and behavior that became unsafe and made it impossible for the assembly to continue," he wrote.
For the seniors, it was the last assembly of their high school career — one that already had been moved from the week before spring break — and most agree the cancellation was taking things too far.
"We had items that helped us make noise, we screamed, and we went crazy," senior Abel Agnes said."All past senior classes have done the same thing. The only difference is that we waited a couple minutes before we went all out. We know it's [Osburn's] last assembly and all, but it's our last one as well. As far as I know, no one was harmed and no one went crowd surfing. Just because it was his last assembly doesn't mean that we were going to be quiet the whole time. There are over 650 seniors. We're teenagers and this is basically the only day we can go totally crazy. They tell us to show our school spirit and be loud, but only if we do it by their standards."
"[It was] our very last assembly before we graduate, you have to expect us as seniors to go nuts. We didn't do anything violent and I've seen other senior classes do worse things. This is the memory that we're going to have when we leave high school.  Also, what about all the people who were going to perform, particularly the CEC kids? We were going to cheer the loudest for them," senior Sunny Bharucha said.
Others agree.
" I would have to say I will never forget today," senior Tia Tountas said. "I was really upset that we couldn't watch the CEC kids play basketball, but we the seniors didn't plan to cancel the assembly; we would never want to do that. Everyone needs to understand that and not only was it Mr. Osburn's last assembly, but it was for us too. We wanted to make it a special moment for us and we did. That's what school spirit is all about. They would rather cancel our assembly than cancel school when there's severe weather happening. They didn't even try stopping us. If they tried we would have stopped."
Some students said they see the other side of the story.
"What happened was extremely disrespectful towards Mr. Osburn, the staff, the students, and especially the people who worked really hard to perform during the assembly," senior Aimeen Zaeena said. "If the class of 2013 can come together to pull off this stunt, then I"m pretty sure we could all somehow think of a way to apologize to everyone, especially the CEC students."
Junior Gretchen Sterba, who was supposed to perform today in the assembly, agreed.
"Not only did class of 2013 ruin it for the school with their insensitive, obnoxious behavior, but they ruined it for me personally," she said. "The highlight of my week was to perform with my fellow Orchesis members, and dance a dance that we've worked so hard on over the past seven months. I think that there is a fine line between school spirit and respect. It wasn't the whole class of 2013, but the people who did partake in the obnoxious behavior were inconsiderate and quite materialistic in my eyes. You can 'go hard' without being a totally selfish."
Senior class president Justin Sia said the whole situation is complicated.
"This is quite a moral dilemma for the Class of 2013," he said. "We never meant to disrespect student government, the gymnastics team, the janitorial staff, nor Mr. Osburn. However, I could see how it could be perceived as that. On one hand, one could ask Mr. Osburn why he decided to pull the trigger, but on the other hand, one could ask us why we had to push it with silly string and glitter. Also, some in our grade say that the school should've expected the seniors to act crazy, but the school could say that they warned us over the intercom during 8th period and also warned us by ending the assembly early last time. As of right now, I don't want to take a side on this mess until we know exactly why Mr. Osburn ended the assembly."