Douglas Bako: Youtube's Rising Star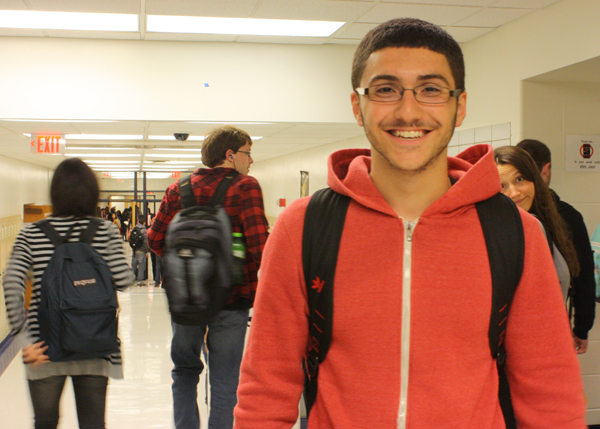 By Connie Lay-Ngo
May 30, 2013
Roll out the red carpet and grab a mouse because an internet star has been born within the halls of Niles West. With a click of a button, you can see senior Douglas Bako reel in views on Youtube with his viral cover of Ed Sheeran's song Wayfaring Stranger. His entrancing voice and interesting integration of modern day technology have become a hit on the internet. Bako did not discover his talents until 7th or 8th grade when his father taught him to play the guitar and sing and applauded his skills.  Since then, Bako has continued singing and his internet fame began on Youtube where his friend had uploaded a video of him using an app called Voice Jam on his iPhone.
"I was at my friends house and I was showing his dad how the app works and he recorded it and put it up," Bako said.
Bako's cover of Wayfaring Stranger by Ed Sheeran and has received over 500,000 views on Youtube with over 10,000 likes since its upload date on January 30, 2013. The video also became viral on Facebook with more than 8,700 likes, 546 comments, and 2,400 shares.
"[The internet popularity] is amazing," Bako said. I can't believe how many people add and message me on Facebook who don't even know me and [contact] me from Iceland. Like, wow, people from Iceland like me! It's just amazing."
Because of the positive responses his cover had received, Bako was offered a partnership from Youtube.
"I get paid per view, per subscribe, per like," Bako shared. "I was amazed considering I was getting closer to making a career [out of music]."
As someone who isn't "the biggest fan of school," Bako spends most of his time doing what he loves: writing and composing music.
"[My life is] just school, homework, music, sleep, and then the same thing again," he said.
Bako plans to attend Oakton Community College for a couple of years and pursue his music. However, because of his family's involvement in his life, he also tries to be a bit realistic and is interested in becoming a contractor like his father as his back-up plan.
"My mom's always super realistic about things," he said. "She thinks [my music] should just be a hobby and wants me to go to college and pursue things. My dad is more about chasing my dreams and my younger brother is a singer, too."
With the determination to make his dreams come true, Bako auditioned for American Idol and The Voice in 2012 and was rejected in both auditions.
"It's hard," he said. "You wait in line for several hours and wonder if you can be the one. That was before [my video was on] Youtube."
Aside from creating music and posting covers, Bako has been a member of West's award-winning male acapella group, Echo Effect, for three years.
"Echo effect is my second family," said Bako. "[They are] my brothers. Echo Effect has allowed me to meet so many different people that I wouldn't have met otherwise. Before, I would usually stay within the same crowd. I've learned not to judge people by what they're labeled."
Junior Vinay Patel admits that Doug "brings excitement and leadership to the group. He is always ready to give us the criticism we need and work to be the group that he knows we can be. He's a really nice guy and a great friend; he's the kind of guy that will always have your back, and I will miss him."
Bako's voice will also be missed.
"Doug is an amazing vocal percussionist. His sophomore year, he won best vocal percussionist at national level and was cheated out of it at the regional competitions the last two years. He's also gone viral online. I think it's great for him and wish him nothing but success," Patel said.
Although he has suddenly become famous on the internet for his talents, Bako remains humble and doesn't want to change because of his popularity.
"As a person, [I haven't changed]," Bako shared. "I hope I [don't change] because I like how I am. God forbid I change because of the money."
Through his struggles as a musician and singer, Bako has learned to tackle all obstacles with perseverance. He has a message for all starving artists:
"Don't give up. I know it sounds cliche, but I've uploaded videos before and they didn't get as much attention so I deleted them. This video [Wayfaring Stranger], after two months, went viral. I feel like everyone should be recognized, but it is very competitive. [However,] if you don't get what you want, you have to keep trying. Just look at me!"
Bako's journey as an artist isn't ending with his high school career.
"When [my] video went viral, I was contacted by a producer from The Ellen Degeneres show," Bako said. "My friend recently got the message that asked for me to go on the show. He wanted me to send a two minute video of me singing. I was speechless, I couldn't believe what was happening. My dad was freaking out. I've watched the show and my friend isn't into that stuff, so when I got the news I was explaining what a big deal it was like, 'You don't understand. This is huge!'  Take that American Idol!"
The date and time in which Bako may appear on the Ellen Degeneres show has yet to be confirmed. Bako plans to continue uploading covers on Youtube of songs from Justin Timberlake, Justin Nozuka, Ed Sheeran, and Louis Watson.
Dig the scoop on Doug? Here are some Fun Facts: 
– He has been involved in West's Boy's Gymnastics and Break Beatz.
– His inspiration comes from Justin Timberlake, Justin Nozuka, and Ed Sheeran. He does not listen to a lot of mainstream music and is mostly into Indie music and slow rock.
NWN: Is there any particular reason why you've only covered Ed Sheeran's songs so far?
Bako: "He is my new love, I'm just madly in love with his songs. I just started listening to Wayfaring Stranger and that's why I decided to sing it [at the time of the video]."
NWN: If you could choose any celebrity to play yourself in the movie of your life, who would it be?
Bako: "Considering I'm a very attractive man, I would pick Justin Timberlake because he's attractive, a good singer, and a great actor. He's like a god."
NWN: If you could have any super power, what would it be?
Bako: "Telekinesis to move things, read minds, and become invisible."