Hat Trick: The Ljubic Brothers & Hubert Szelag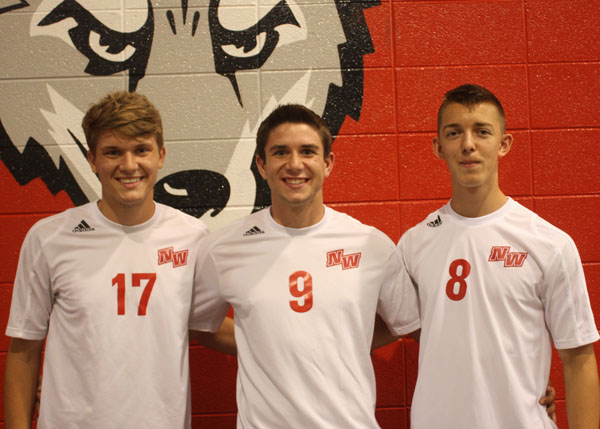 By Alyssa Guzman
August 27, 2013
"My freshman year, I wanted to make varsity so bad," senior Robert Ljubic said. "I actually made it somehow, and I was so surprised."

Three years later, he's leading the boys varsity soccer team as one of their captains side by side with his brother, junior Mario Ljubic, and good friend, senior Hubert Szelag.

The younger Ljubic admits that working with his older brother as a captain feels "swaggin'. It's a good feeling because you feel important. [Soccer strengthened our bond] a little bit, yeah. Not too noticeably and not in a way that we're best friends now, but soccer does unite us. I think that if we both did not play soccer we wouldn't be as close," Mario said.

Robert agrees.

"It's entertaining," he said. "I'm never bored. There's two of us, so we can do everything together."

Although Szelag may not have a blood relation to his co captains, that doesn't hinder their relationship whatsoever.

"We all chill outside of school. We're all good friends, so I don't feel like a third wheel," Szelag said.

EARLY LIFE

The trio have all been active participants in soccer since the young age of just six years old, and their love for the game is what really brings them together.

The Ljubic brothers developed their skills early on at the AYSO soccer club, and then moved on to a Croatian team that their father founded and coached.

"

"It was all us Croatians," Robert reminisced. "We were all together and we all knew each other so it was fun to play."

"

Mario admitted that to him, the team was much more than just a fun team to play on.

"[The Croatian soccer team] made me really involved with soccer. Being involved, I started to like it. Soccer pretty much took over my childhood years and I became a huge soccer fan. I love the sport, and as a kid I always planned on playing professionally," he said.

Now, the Ljubics are both actively involved in both Niles West soccer and FC Chicago Soccer Club.

Though Szelag's soccer upbringing was a little different, he shares the same passion for the game.

Similar to his co captains, soccer is also a strong part of Szelag's Polish culture.

"[Soccer] just comes with the culture I guess. During the world cup you always watch games. Whenever there's a friendly match, my uncles and everyone just get together and watch the game at somebody's house. Soccer's just in my blood basically," he said.

Unlike the Ljubics who started their soccer careers at AYSO, Szelag's first memories were at the Niles Park District.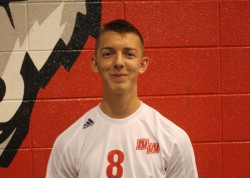 "I played for about two years, and then my coaches and parents saw that I was better than the other kids, so they signed me up for for club. At first I played for Wisla [a Polish soccer club] for about four years, after that, I went to PNA soccer club, and now I play for Chicago Magic."

EXPECTATIONS

With the constant moving around from soccer club to soccer club, Szelag admits that out of all of his experiences, PNA has impacted him the most, but right now, the boys are focusing on what they currently have going on since their coaches have such high expectations for them, particularly assistant coach Eric Lueder.

"I don't know where the team is going to end up, but I think those guys, to this point have been phenomenal. Some of the best leadership we've had in a long time. I think it starts with how hard they work, and they really have, so im anxious to see how it turns out. It's been an exciting summer. The guys, their leadership has been, like I said, just fantastic, through their actions and their words," he said.

As for the boys, they hope not to disappoint the man who Szelag refers to as "the number one motivator you'll come across."

"Sophomore year, regional semi finals against GBS, we were down 2-1 and at half time, Leuder just gave us an inspirational speech that hit us all. We tied the game and went into double overtime," recalled Szelag.

The team got the penalties in double overtime, but when it came down to making goals, the referee didn't see the ball go past the line even though there was a video of it. Although the loss was tough for the boys after having such a great comeback, "Lueder made sure we kept out heads up," Mario said.

"

"He said it was one of the biggest comebacks he's ever seen," Szelag said.

"

The boys all agree that Lueder is an inspiration on and off the field, and that's no accident.

"I remember as a player the things I wanted to hear. I read a lot. I study a lot about things that motivate people, and I think a lot of it, too, is getting to know the guys and how to reach them the best. Different teams respond in different ways. I think it's my own personal experiences, and the relationships I have with the guys. I never played soccer in my life, I just learned it because I was asked by a friend to help coach, and then I really loved it, so I just learned it, watched it and studied it," Lueder said.

The boys are planning to fully live up to the expectations that their team has for them, with Mario hoping to score 17 goals this year, Robert planning to make all sectionals as an individual, and Szelag aiming for an all conference title as a player. As for their team, they agree that super sectionals and all conference would be two events to which they hope to lead their team.

Head coach Scott Ackman has no doubts that his team will be successful under the leadership of the skilled trio.

"Those three worked the hardest in the off season. They did everything we asked for. They're the leaders of the team. They got all the team together for camps, for summer games, they've just done everything. They've also been on varsity the longest. [The Ljubics have been on varsity] since they were freshman. So we expect them to be leaders out there. I expect a ton. It's a really young team but they played over 30 games this summer, so they're really experienced, and they should do really well," he said.

"Ackman is the brain of the team, he's always coming up with new ways to dissect specific plays and always helps you develop individually as a player," Szelag said.

INSPIRATIONS

Having such a huge title to fulfill can be a lot of pressure, but the Ljubics and Szelag are able to handle the pressure thanks to their own personal inspirations.

"Any single person that plays soccer in the universe is influenced by Cristiano Ronaldo. That is one hundred thousand percent true," Mario said, with his brother nodding in agreement.

Szelag, on the other hand, admitted to being team David Beckham.

"He's like the perfect dude," Szelag said simply.

On a more serious note, though, family is the heart of it all.

"My family is my inspiration, but most importantly, my dad. He tells me to score a goal for him before every game, and whenever I do score, I point at him, and he points back at me," Szelag said.

Robert also admitted that when his father comes to his games, he "goes harder. He was there since I was six years old. Without my dad pushing us, we wouldn't be as good as we are now."

Mario, on the other hand, looks to former captains for inspiration, such as Niles West alum Michael Tabar, who graduated in 2012.

"He's a great inspirational speaker. He's just so inspirational!" Mario said.

Though he graduated two years ago, Tabar remembers Mario and Robert as underclassmen on the team well.

"At first Mario appeared to lack some leadership skills since he was the younger of the two brothers. They both had a very relaxed attitude towards soccer that was good for a game but not a leadership role. With this said, it only took one or two games for them to understand what being a leader meant. They both learned that a leader leads by example first and words second. By mid-season I knew that they would be able to lead this team once I graduated."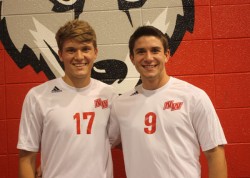 Now that their titles as leaders have been secured, Tabar, although not technically directly involved with the team anymore, also has high hopes for the team.

"In regards to this season, I feel the team is in good hands because the young, relaxed, and goofy Mario and Robert have both grown up. They both realize that high school soccer is a privilege and it only lasts four years so their attitude significantly changed to fit the leadership role. To be a captain of varsity soccer Mario and Robert need to lead by example both on and off the field," Tabar said. "Whatever it is they do is magnified because the younger players look up to them. Also they need to be honest and open to their teammates about what they are doing right and wrong, but maintain a cool head when the pressure is on. My advice to them is this, 'if the captains cannot handle the pressure, who else is expected to?'"

SOCCER IN THE FUTURE

The captains are well aware that the younger players are looking up to them, as Tabar mentioned, and they plan on conveying a simple but effective message to them throughout the season: go hard all day, and stay motivated.

Mario was especially adamant on this, since he will be expected to lead the team next year without the companionship of his brother or good friend, but he has high hopes for sophomores Mario Bajric and Alex Rodrigues being by his side as captains next year.

"I've played with Mario for a long time," Rodrigues said. "I think it would be a good idea, because we work well together."

Bajric was also excited about the possibilities for next year.

"I think Mario is the best captain we have. He's a great leader. I think he'll show me how to run the team next year, and how to be a great captain like him," he said.

Being captains is a huge achievement for the three boys, and it's bringing them one step closer to their long term goals.

For any athlete who has a deep seeded passion and love for their respective sport as these boys do with soccer, it's a given that playing in a professional league is always an appealing idea.

The three admit to always having wanted to play soccer professionally, but reality has gotten in the way.

"

"Now that [we're] older, we realize more things, like how it's harder to go pro," Szelag said.

"

"Maybe it's not a goal. but it's definitely a dream. It's always a dream. We have other obligations in life, and soccer can't overwhelm us completely, but if the opportunity does present itself, it's always there. It's always a dream," added Mario.

In the high hopes that they do all make it to the professional leagues, Mario is undecided on what team he'd like to play for, but the idea of playing for Manchester United appeals to Szelag. As for Robert, he would love to play for Croatia – his home team.

Although the boys would never deny an opportunity to go pro, they are realistic, and do have backup plans.

"Hopefully, if I could play in college I would want to do that. I'm looking at UIC primarily. I already know what I'm doing. I'm going for physical therapy, a six year program to get my doctorate's degree, and if soccer doesn't work out there's always that. If I can't make the team in college, then I'll try out for a club team in college, Szelag said.

Though Robert isn't quite sure what he wants to study yet, he is looking into both DePaul and UIC for soccer, while Mario, being the youngest, hasn't begun his college search, but he does intend on starting soon and playing college soccer.

No matter where life takes them later on, all three boys want their children in the future to have the same level of soccer involvement that they were raised with.

"Soccer [will be] a part of my life in the future," Robert said confidently. "I'm gonnna be like a coach. I'm gonna coach for something. I want two kids, and I want to raise my kids the way my dad raised me in a soccer oriented family."

Mario agreed, stating that he wants his kids either boxing or playing soccer.

"As soon as my kids can walk, they're going to learn to kick a soccer ball," Szelag said.

The co captains don't plan on having any mini soccer stars until much later in life. Right now, they're busy working hard in high hopes that they will completely surpass any success that they experienced as a team last year, which means that they hope that Niles West will be there supporting them at every home game, especially any games against our rivals, Niles North.

"We're going to put on a show this year," Mario said. "Last year is a complete joke compared to how this year is going to be. We're going to be sexy."