2013 Girls Varsity Volleyball Preview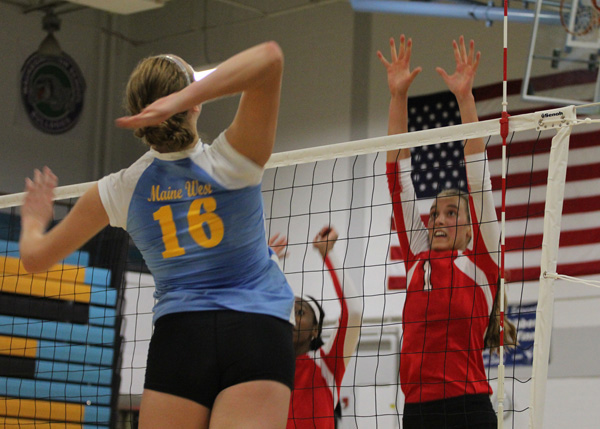 By Danny Thompson
September 4, 2013
Following a record breaking 26 win season and an appearance in the sectional final, the Wolves are going into this season with a lot of new faces on the court.  As the team looks to reconstruct itself and gain the chemistry that last year's squad had, the Niles West News sat down with head coach Stacy Metoyer to find out how they will do so.
NWN: Last year's team was incredibly successful.  You turned out [a school record] 26 wins, second in conference, and an appearance in the sectional.  What allowed the team to do that?
Metoyer: We had a lot of talented girls who played together for a lot of years [at West], in addition to playing together on club teams.  They were a hardworking group, and they listened well.
NWN: Obviously a lot of new faces, especially as far as your starters go.  How has the team changed?
Metoyer: The good thing is that even though we had a lot graduate, we still have a lot of girls who have played club together and share a lot of the characteristics of the girls from last year.  The question is how quickly will they gel on the court.  They're good girls and they listen well.  The only main difference [from last year] is that they haven't played as a group as much.  Last year's team played club together.  It just takes time.  Our best and most cohesive practice was this past Saturday.  We've got two freshmen and two sophomores on the team and they look to be fitting in well.
NWN: Has the new team changed any of your goals for this season?
Metoyer: I'll leave that one up to the girls.  It's how hard they're gonna work and how dedicated they are.  Do I think we can reach sectionals again?  Definitely.  The team's set a goal for themselves of tying or beating the number of wins from last year.
NWN: As far as on-court skill goes, how does the team look?
Metoyer: Serving is definitely a strength.  We've got a lot of good strong jump servers.  We've even got a girl who has a division one full scholarship.  It's the first one in team history.  We have a lot of girls who can hit the ball well and hit it all over the court.  Senior Olivia [Rusek]'s back and she's even better this season.
NWN: What look to be your toughest games?
Metoyer: Our whole conference.  Five out of the six teams are strong every year.  New Trier knocked us out of the playoffs last year and went on to lose in the state championship.  We play them three times.  We ended up second in conference last year and it's always very competitive.
NWN: You've touched on this already, but what's the key to success this season?
Metoyer: The flow and gel of the team.  On Saturday we looked very well.  Can they all play together on the floor?  Can we shake off our mistakes or do we dwell on them?  Good teams shake off mistakes and get the next one.
NWN: The first game of the season is this Thursday against Maine West.  What should fans look for?
Metoyer: Look for us to be playing hard.  The nerves are always higher because everyone's excited for that first game.  We have a team that's working hard and doing their best, and hopefully a win will come out of that.