Triple Option: Mid-Season Heisman and Championship Picks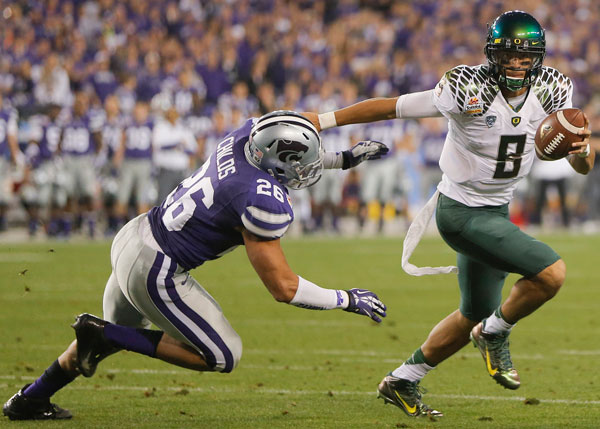 By Danny Thompson
October 17, 2013
Moving faster than Oregon's offense, the college football regular season is already halfway done. Players have stepped up, teams have impressed, and it's time to take a look at heisman candidates and teams with championship potential at the mid-way point.
Mid-Season Heisman: Marcus Mariota, QB, Oregon – The debate after seven weeks has essentially been narrowed down to Mariota and Johnny Manziel. Their playing styles mirror one another, but right now Mariota is looking that much sharper. He has 17 passing touchdowns to Manziel's 14 and 8 rushing TD's to Manziel's 5. Mariota's team is 6-0, Manziel's is 5-1. Oregon is ranked second in the nation, Texas A&M is ranked seventh. Are you beginning to see a pattern here? This next statistic is the clincher, and I was a little bit surprised when I first saw it: Marcus Mariota has not thrown a single interception this season. He is one of only three quarterbacks with over 100 pass attempts who can say that. While this is only week eight, and things can change pretty quickly, Mariota looks like he'll have no problem hoisting the heisman trophy if he keeps the Ducks winning.
A heisman sleeper right now is quarterback Sean Mannion from Oregon State. He has more passing yards AND touchdowns than any quarterback, and he only has three interceptions. He is consistently left out of the Heisman debate however, because he is not the running threat that Mariota and Manziel are. While he may not have the speed and athleticism of more prominent QB's, he's got his team off to a 5-1 start. Looking ahead to the last week of the season, when Oregon and Oregon State play, Mannion could shoot himself to the top of Heisman voters ballots with a win. It's an unlikely scenario, but keep an eye on Mannion and the Beavers for the rest of the season.
Mid-Season Championship prediction: Alabama vs. Oregon – This one is pretty obvious. Of the teams in the top ten, anyone who has watched them all play can tell you that Bama and Oregon are in a class all to themselves. They are fast, high scoring, and don't make a lot of mistakes. Both of these teams will be looked on favorably by BCS voters, as they put up points and have dominated games that they have won (which happens to be all of them.) Oregon needs to look ahead to games against #9 UCLA and #13 Stanford, which will make or break their championship hopes. At this point, I see Oregon winning both games. Stanford's vulnerability was put on display last week with a loss to Utah, and UCLA has only played one ranked team, Nebraska. If Oregon gets those two wins, and doesn't stumble along the way, there's no doubt we'll be watching them play for the coach's trophy come January.
Alabama's road to the championship all comes down to their Nov. 9 date with LSU. The Tigers could win that one, and if they do, the Tide might have a little bit of trouble continuing to roll. LSU lost to #9 Georgia earlier in the year, but have continued to improve since then, and all bets are off when SEC heavyweights get together.
The only other championship scenario I see is Ohio State winning out (which is very plausible) and either one or both of the aforementioned teams losing. The buckeyes play a pretty soft schedule for the rest of the year, playing six conference games that they can easily win. The only tricky one is a final week matchup with Michigan. It's being played at the Big House, and the Wolverines will come out swinging.
All in all, it's been a thrilling season so far, and the second half doesn't look to disappoint.