Lee Makes School History at State; Levine Flashes his Potential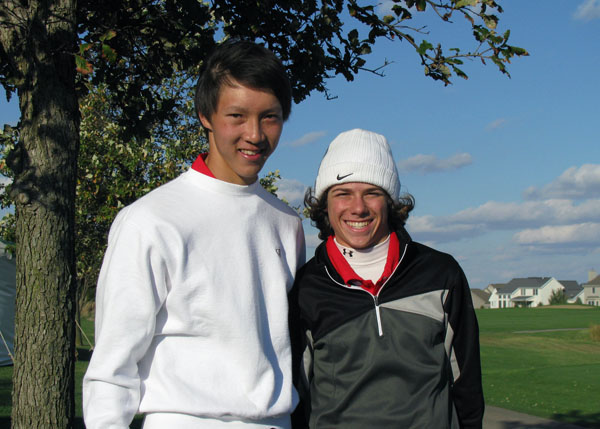 By Vinny Kabat
October 24, 2013
Senior Nate Lee and sophomore Skylar Levine made the most of their outing at state this past weekend. Lee finished 16th overall in his final state tournament, the highest a Niles West golfer has ever placed. As for Levine, he finished with a respectable 74th place finish.
Although Lee didn't finish in first as he said was his ultimate goal, he was still happy with the way he played. "I'm a little bit upset, but I played pretty well overall," he said, "so I can't be too disappointed."
Levine finished with a higher rank than Lee did as a sophomore (89th), indicating he'll continue the legacy of excellence of Niles West golf. Always looking to improve, Levine wasn't fully satisfied with his first outing at state.
"I could've done a lot better," he said. "But it was the first time, I learned the course — it's a really tricky course, especially in the fall. I did all right for the first time but hopefully next time I do a lot better."
Lee was proud of his teammate. "He played great. Better than I did when I was a sophomore," he said. "He's one of the better players now for his age group, and next year he'll be even better."
Though the Wolves will be losing their most successful golfer in school history, Lee is confident the team will still succeed as he moves on to college. "We had a good team this year. I know we'll have a good team next year. We're losing a couple seniors, but the juniors that are gonna be seniors next year are gonna be pretty good," he said. "They're gonna be pretty reliable, and they should give conference a shot."
Levine recognizes the fact that he'll be taking over as the team's marquee golfer and as an important leader now that Lee's time with Niles West golf has come to an end. He said it's just a matter of staying true to the way he has always played. "I'm just gonna try to play like I always do and not think about expectations. Nate did a great job of representing Niles West and I'll try to do the same."
Head coach Mitchell Stern admired the way his two star golfers handled themselves at state. "[Nate] and Skylar represented our school with class. They are both amazing ball-strikers," he said, "and [have] a maturity beyond their years."