Rusek Signs with Miami University of Ohio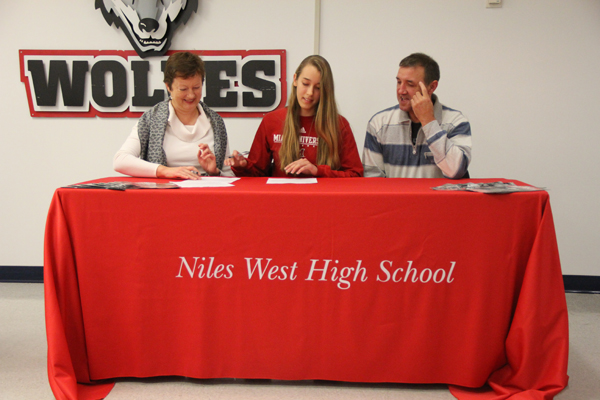 While she's known that she is going to take her volleyball talents to Miami University of Ohio since she was a sophomore, senior Olivia Rusek made the decision official on Wednesday afternoon as she signed her letter of intent in the student commons. In doing so, she made history by becoming the first Niles West girls' volleyball player to receive a full Division 1 volleyball scholarship.
Rusek's coaches had nothing but fond words to say about the star volleyball player and were proud to be a part of her success.
"I feel elated," said girls' volleyball head coach Stacy Metoyer, who coached Rusek at the varsity level for four years. "I am so proud of her accomplishments. She has worked very hard in the past four years in season and off season."
Assistant coach Bryan Paliza has gotten to work with Rusek the past four years as well, and is greatful for the opportunity he has had.
"It's been an absolute blessing to be surrounded by the amazing student athlete that she is for the past four years," he said
Rusek said she feels like she has reaped the benefits of hard work on perfecting her craft on the court.
"It feels like all the hard work I have put in has payed off," she said, "and it just feels really good."
And while she had many great memories in the Niles West gymnasium, including two straight regional championships in her final two years, she looks forward to the next level of volleyball.
"I think I am most excited about playing in the NCAA tournaments, traveling around the country, and playing different teams," she said.
And Miami-Ohio has likely gained a star on their squad, according to Metoyer, who said, "She is probably the best volleyball player that has ever walked through these halls in the past 50 plus years."
Emily Butera contributed to this story.