Choir Students Share the Spotlight with Paramore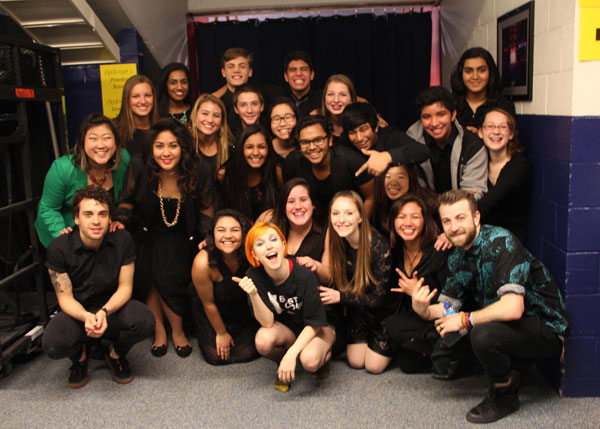 Twenty Niles West choir students got the opportunity to perform on stage with Paramore last night during their concert at the UIC Pavilion.
Students performed Paramore's new song "Ain't It Fun," sang along to the chorus, and danced alongside the band after front woman Hayley Williams introduced them to the audience.
"Performing with Paramore was just easy. The band was super nice and the whole experience was fun and totally rock 'n' roll," senior Surdeep Chauhan said.
"It was the most surreal experience I've ever [had]. There was such incredible energy. I felt like a real rock star on stage… It was truly a night I'll never forget," senior Melanie Leftakes said.
Senior and President of Choir Board Courtney Nielsen had similar feelings.
"I felt like I was famous for five minutes, and it felt amazing. Hayley has the most exhilarating career and I'm so thankful she shared [it] with me."
Choir teacher Amy Branahl is nothing but thankful for the opportunity, which came as a but of a surprise since the choir had no idea who they were performing with until the last moments at the UIC Pavilion.
"I am so thankful to have been given the opportunity to showcase the talents of our students and our program at Niles West.  Tonight was a culmination of hard work and what I call kairos moments. kairos [is] Greek [for] the right or opportune moment and tonight's performance was a kairos event," she said. "I've been encouraging my students to be open to opportunities, how to learn tough lessons like not being one of the 20 students chosen to sing on stage, and even how to behave in the face of disappointment when you can't meet your favorite band.  It's been a learning experience for me as an educator and it is my hope that my students will work hard every day in the classroom so that they can be ready to sing for these kind of major events as they come up. The word opportunity is such an interesting word. Sometimes you are given an opportunity due to hard work, sometimes they are because you are at the right place at the right time, and sometimes it's just God giving you a bit of luck in life. All I can say is that I am so thankful and…Carpe Diem."
Students were grateful for the opportunity as well.
"I'm so grateful for Mrs. Branahl and the amazing opportunities she gives us. I can't even express how thankful I am for this once in a lifetime experience," senior Armeen Sayani said.
Others realized how strong the programs at Niles West are.
"It was my first concert ever, and it's crazy to think that I got to perform at it! Only at Niles West do we get this kind of opportunity. It's been a ride," senior Daniel Bedoya said.
Freshman Chester Beck was one of the few underclassmen who was lucky enough to experience time on stage with the band.
"It was the greatest experience of my life!" Beck said.