Lady Wolves Lose to Niles North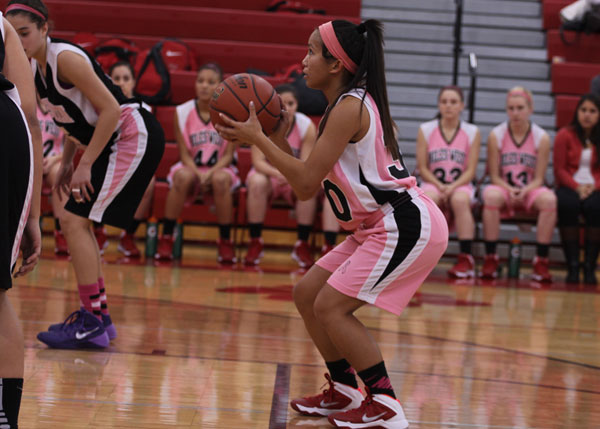 By Rand Jassar
December 9, 2013
The Girls' Varsity basketball team did all they could to win Saturday's game against Niles North but came up short by one point with a score of 65-64.
The Wolves tried hard to maintain the score in their favor but the Vikings were not allowing them to take the win home.
The game started out in favor of Niles North but West evened it out and ended the first quarter with a score of 12-12. The Vikings began to escalate their scoring output, putting one basket after the other after the buzzer of the second quarter went off resulting in a score of 35-29 in Niles North's favor.
At the start of the third quarter, the already loud crowd got even louder. Students from both the West and North bleachers were chanting some inaudible words at each other and cheering their girls on.
West was seeking redemption, trying to win the game but the Vikings didn't let them. The third quarter ended with score of 53-47.
When the fourth quarter started, the gym was a full house. Students and parents were cheering, anticipating the final buzzer. The Wolves were able to get even with a score of 58-58 after multiple free throws and rim attacks. They even got ahead at one point with a score of 64-63. With 12 seconds on the clock, the crowd was now on their feet. The Wolves fought hard but the Vikings made a dramatic final shot as the buzzer sounded and ended Niles West stunned with a final score of 64-65.
Junior Julia Easter describes the game as a dog fight.
"I feel like our team has come a long way and we've been working really hard," she said. "We knew the game would be a dog fight and that we would have to push through to win. We had a good game against Evanston before that and we definitely transferred the energy to the North game. We were all upset we lost but we definitely left it all on the court."
Captain Alex Galanopoulos says that the crowd cheers were a motivation that night.
"The crowd was a huge factor," she said. "They get us pumped up and help our energy a lot, and of course we like to do better when a bunch of people are there watching us. Our whole team loved that they came to support us. They were a factor in us doing pretty good in the game."