Joerlyn Manalang: West's Fitness Inspiration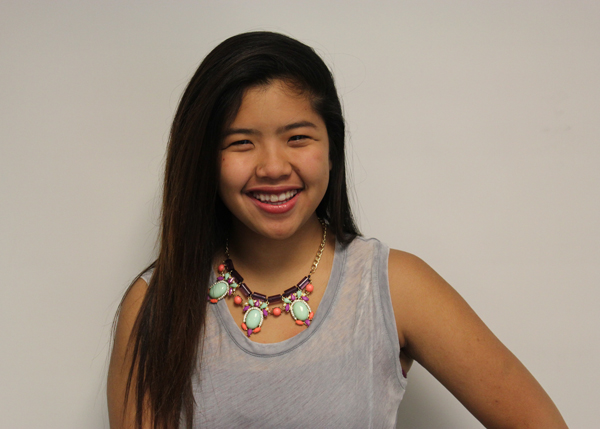 By Gabrielle Abesamis
January 31, 2014
Senior Joerlyn Manalang runs on the treadmill at Planet Fitness. Today is her cheating day on her diet. She ate a lot of junk food, and she knows that the only way it won't hurt her health is if she compensates with exercise. Her head phones are in her ears and her mind is with the music, so she doesn't notice the steady beat her feet create.  As the electronic dance beat plays from her iPhone, time to time, she notices how far her running has taken her. She's on mile three, but she won't stop until she reaches seven.
"I tried getting fit for so long, until I eventually gave up. I just told myself that I was fat and accepted myself for that," Manalang said.
Instead of trying to maintain a healthy lifestyle, she ate her guilty pleasures of Flamin' Hot Cheetos and Chipotle Burritos on a regular basis.
John Sia, a doctor of internal medicine and family practice, said one of the first steps in having a healthy weight loss is research about an individual's body.
"One has to know what his or her daily caloric requirement is, the present weight, the weight loss goal, and the length of time [for the] goal," he said "Then, consume about 500 calories less than the daily requirement everyday and add excercise at least a few days in the week.The food that [you pick] should be less of carbohydrates, less fat,  more of protein and lots of water. "
Aerobics instructor and cross country coach Anne Hesselton said persistence is key to having a healthy lifestyle.
"Consistency when you work out. [That's] what's most difficult for people. If you don't see instant results, people have a hard time getting motivated. But, once you see the weight coming off, they're able to stick with the program and continue to lose weight," she said.
Manalang wasn't the only one suffering from the long term effects of junk food. As reported by the American Academy of Child and Adolescent Psychiatry, 16 to 33 percent of American teenagers are overweight and unhealthy.
Dr. Sia said a shortage in calorie intake will be the most effective for teens and adults.
"There are a lot of prescribed diets and excersises in the market," he said. " The bottom line is, eat less than what your body needs to have a deficit in your [daily] calorie requirement."
Last August, with the weight of 172 pounds for her 5'3'' body type, she realized being on the varsity poms team wasn't enough to make her a healthy teenager.
"I realized that if you want to change, it has to come from within. There's this one quote that says, 'your body is a reflection of your laziness' and I think that's so true," she said. "I gave up because I was too lazy to put down the Hot Cheetos and get off the couch and worked out."
Little did she know that her epiphany would positively impact her senior year by a tenfold. For the reason she dropped the lazy lifestyle, she made daily trips to the gym, ran five miles a day on the treadmill, and realized the things that exhausted her have no effect anymore.
"I used to be so tired going from the first to the third floor of school. I was panting and looking for the water fountain tired, and I was really ashamed of it," Manalang said.
Hesselton said there are many healthy exercises that give quick weight loss results.
"One [exercise] is called high intensity interval training (HIT ). It get gets your metabolism going and when you finish working out, what happens is your metabolism stays at an elevated state and you continue to burn calories after working out," Hesselton said. "Those types of workouts include burpees and push-ups and squats that are very explosive using different muscle groups in your body, it gets your heart rate up and it allows you to burn calories after working out."
On the downside, not everyone has a hopeful mindset like Manalang. According to the National Association of Anorexia Nervosa and Associated Disorders, 95% of Americans with eating disorders are 12 to 25 years old.
"To know that you achieved your goals the healthy way, and not in a way where you cheated by having an eating disorder, I think that's a much more beautiful image than the expected one society has," Manalang said.
With prom taking place in three months, there seems to be more pressure to lose weight.
Guidance counselor Hope Kracht witnessed this with some of her students.
"I have girls before prom that come in and they haven't eaten for months," she said. "Our society is so driven by how we look, but there is no such thing as the perfect shape. Our culture does not support [the appearance of] young women and men."
Kracht said students who have an eating disorder should tell the school so they can help determine the kind of treatment they need.
"If someone would come to me as a student who is dealing with bulimia or anorexia, I would — here at the school — work with the family about resources outside the school," Kracht said. "We don't do groups at school because it's a very individual thing where you have to go out though a therapeutic way, there are lots of programs out there. The school's responsibility is to work with the family to make sure teens will get the help they need."
Close friend and senior Jayna Shah thinks Manalang's transformation is inspiring.
"As an athlete, I can tell you that losing weight and getting back into shape is easier said than done. It's more than working out and going to the gym. It's about eating healthy too. Manalang woke up every morning motivated to achieve her goal and that's so admirable," Shah said.
As result of working out and healthy eating, Manalang now weighs 136 pounds.
"My advice for those who struggle to stay motivated is think about how great you'd look in five months if you started today! You're worth more, and you shouldn't settle for 'I'm fat' or 'I'm not good enough' cause you are," she said.