Coach Bob Williams: Creating A Legacy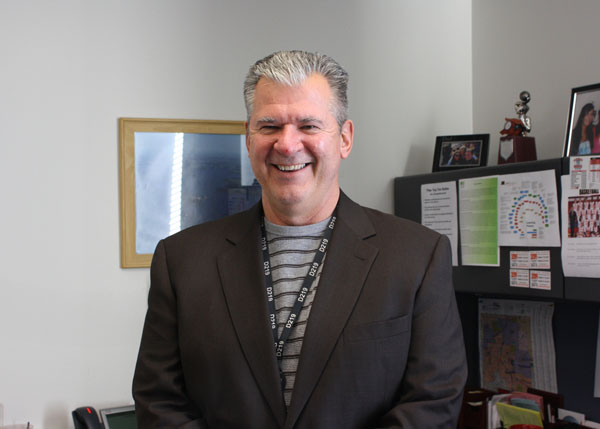 By Mario Ljubic
January 17, 2014
As a young boy, head varsity boys basketball coach Bob Williams always knew what he had wanted to do in his future.
"I always paid attention to my high school coaches," Coach Williams said, "because I knew that's what I really wanted to do."
Throughout his teenage years, Williams loved the game of basketball just as much as he loved math. Growing up, his math teacher was also his high school basketball coach.
"I remember my sophomore year in high school I wanted to be a math teacher and a basketball coach. My basketball coach was a math teacher, which is why I think he had a lot to do with it. I was in his class, I didn't like him much but I feel as though he still had a lot to do with it," Williams said.
Having played basketball throughout his high school and college career, Williams paid special attention to the certain details that a typical high school or college basketball player may not have paid attention to. He studied his coaches, memorized certain life skills, and excelled in all of his math classes. Paying his way through college, he attended the University Of North Dakota.
Though he was living his basketball playing dream, Williams hit a bump in the road during his college career.
"My junior year in college, I ended up getting [mononucleosis], and [my coaches] told me I could not play that year. There was a local high school [in the area] with about 1,500 kids with an opening for a sophomore basketball coach. I applied my junior year in college. The [head basketball coach] remembered me from when I had played and so I ended up getting the job," Williams said.
Williams' dream of basketball were never been shattered, not even through the end of his college basketball career. Coaching took over the role of basketball in his life and that is what he has always truly wanted.
"I coached my junior year and decided to coach my senior year as well. I knew that is what I wanted to do for the rest of my life," he said.
Ever since that first year as a junior in college, the start of his coaching legacy, Williams studied all over the nation to perfect his teachings on the hardwood floors and in the class room.
"I coached football for about eight years at Palatine High School, and I liked that too. It is just that I like the game of basketball because it is so continuous…and it really gets to your character. Your character really shows, giving you an opportunity to work on that and make it better."
Through the 36 years Williams has been coaching, his love for the game still does not override his desire to make his teammates better men. The philosophy behind his teachings are not solely based on becoming better basketball players–which they still are, very much so. They are even more so designed to sculpt men out of young boys. Williams wants to leave a mark on the things that he has touched, and through that, he molds his young high school students into respectable men with the game of basketball.
"I really believe that it makes a difference for kids [coaching], it is a part of the educational system for a reason. I think you can learn things in athletics that — in basketball in particular — you don't get a chance to learn anywhere else. Things about setting goals, things about facing adversity, those kinds of things I think really make a difference for people and their lives."
Williams extends his career through many schools and different programs, reflecting on the fact that coaching basketball and teaching math taught other people around him how to strive for the things they truly want in life.
"People always ask me, 'What are the highlights of your career?', and well, the biggest thing that kids, men, come back and say [are], 'Coach, I'm at the Board Of Trade and I'm just making millions of dollars because of doing what you taught me,' or, 'I'm a doctor and I'm so successful and my patients love me because of the things that I learned in basketball.' When you talk to people that have been through it–and it's not easy–they're successful."
Senior captain and forward of the varsity basketball, Romeo Magloire, shares his thoughts on the philosophy of Williams coaching that Magloire will soon carry on with him to his later years in life.
"I didn't expect much of coach my sophomore year when I got pulled up to practice with varsity…This year and last year are similar but we're closer this year. I've learned that he teaches us a lot about how to be successful in life, not just basketball," Magloire said.
A two year varsity starter, Magloire believes in Williams style of play because he likes the team style.
"In AAU [Ameture Athletic Union] we can shoot whenever and have a lot of freedom, but coach makes us share the ball and everybody gets buckets. I'm cool with everybody scoring if we get along and win," Magloire concluded.
Another successful year is under way for the boys varsity basketball team. Magloire along with senior co-captain, Ahmad Gibson, plan for not only a winning record, but a successful year as a team.
Playing for Williams is not the easiest thing to do, according to the boys varsity basketball team, but each player enjoys the rewards that the coaching provides.
First year varsity starter, sophomore Jojo Rios agrees with Magloire. Not only do the both of them love the coaching style of Williams, but they both favor the lessons that he teaches them.
"He was honestly a better coach than I thought. He teaches you a lot about basketball and life. He teaches you how to handle your frustration, to multi-task and a lot about communication," Rios said.
Various remarks on Williams coaching style are discreet and positive, but are also very similar. All former players that have been coached by Williams share their successes in life through the lessons he's taught them. Both Magloire and Rios have positive statements regarding the life lessons that Williams has taught them; a recurring theme in the philosophy of coach Williams.
"What we do isn't easy, for the players or the coaches, but its very beneficial. I keep doing it because I believe it makes a difference," Williams shared.
He not only produces better basketball players, but young men, and that is what coaching is all about for him.
"Especially as you get older, you know, you really look at, well, 'What's life really about? What's the whole deal?' If you can look at [life] and say that you've made a difference for other people and made their lives better, then thats really meaningful. [And] that's really worth having."
Loving the game of basketball and doing what he's always dreamed of doing is what Williams' life is all about. Through the hardships and glories, Williams does what he does to make other people's lives better.
With many years in the business, Williams has new plans for the future.
"I'm a freshman right now, and when I get done with this I think I probably won't coach anymore. I may pursue some things in the math area and that kind of thing, doing consulting or stuff like that, but I think that'll be the end of my coaching [career]."
Williams has touched many people on his road of success. Ending his coaching career will only open new doors of opportunity where he can share the life lessons he's learned on the way with the new people in his life. Former teammates, incoming players or students in the classroom can all relate to Williams philosophy not only in basketball, but in life. He has created an image of respect for himself through the way he lives his life, Niles West will only be greater as he moves forward with his life, taking what he's left to cherish.
Coach Williams hopes to only learn more as the years move forward, "The one thing that it does take is, and there's a good and bad to it, is that it takes a lot of energy. People always say I act really young and that's because of needing to do this at a certain level of energy. [But] at some point there's enough and I think I'm close to that point in my life."