Alex Galanopoulos: Hard Work Beats Talent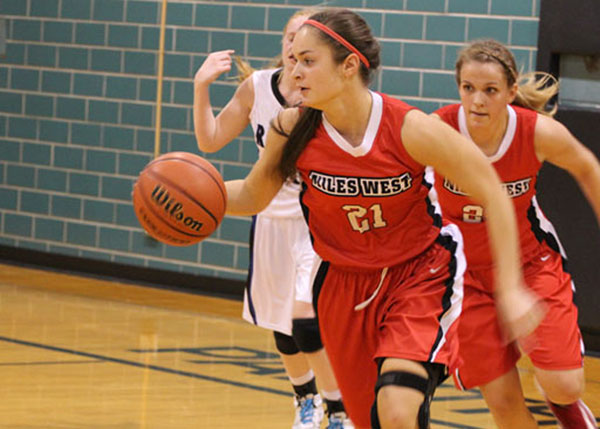 Senior Alex Galanopoulos was a four-year returning varsity player for the Niles West girls basketball team. Since her sophomore year, she has been on the starting line up and  junior year she was voted captain of the team.
"Alex is the true definition of what our program is all about. Her ability to guide and teach the other girls and to become a leader and a role model for the underclassmen is incredible. All of her hard work and immense help has impacted the Niles West program in such a tremendous way," coach Michael Parker said.
Her father said basketball has been a part of her life for years.
"Every since Alex was five years old she had a love for basketball, I try and make it to every game to support her and encourage her. There is nothing like being able to watch your child grow throughout the years, on and off of the court," father Mike Galanopoulos said.
This past Monday, Galanopoulos was given her first all-conference award for the girls basketball season 2013-2014.
"I'm so proud of Alex and all of her hard work and dedication; she has done such a phenomenal job. She showed me the real meaning of 'Hard work beats talent when talent doesn't work,'" sophomore varsity player Nichole Loptain said.
Galanopoulos has pushed herself throughout her entire basketball career at Niles West High school. She never wanted to let her teammates down, so she constantly strived to be the best, pushing and testing her limits.
"Alex will never miss a school day no matter how sick she is. It's because she knows that if she misses school, she has to miss practice. I've never met anyone so willing and dedicated. She is full of potential and it makes me so proud!" mother Cindy Galanopoulos said.
Unfortunately at the end of Galanopoulos' sophomore basketball season she tore her ACL. This injury was the cause of her missing her entire junior year on varsity. Some might say that there is no way for a person to come back after an injury like that, but for Galanopoulos it was just a minor setback for a major comeback.
"When the coaches announced captains last year, Alex was extremely happy to find that she would be one of them. It meant so much to her to know that her team was still supporting her through this difficult time. She tried to stay positive and encourage her teammates the best way she could," Cindy Galanopoulos said.
Galanopoulos is the oldest out of four children. Her siblings admire her hard work and willingness.
"I'm really going to miss my big sister, not only has she been a great supporter but she has also been a great friend and listener. Not being able to share a room with her will be hard but I know that it's part of growing up," younger sister Samantha Galanopoulos said.
Sam Galanopoulos has chosen to follow in her sister's foot steps and plays basketball in the Niles West feeder programs.
"If basketball taught me anything, it taught me to be kind and have patience. Basketball helped mold my character throughout the years. I learned a lot and I had fun. That's really all I ever wanted to accomplish in this program," Galanopoulos said.