Romeo and Juliet: Taking Breaking a Leg to a Whole New Level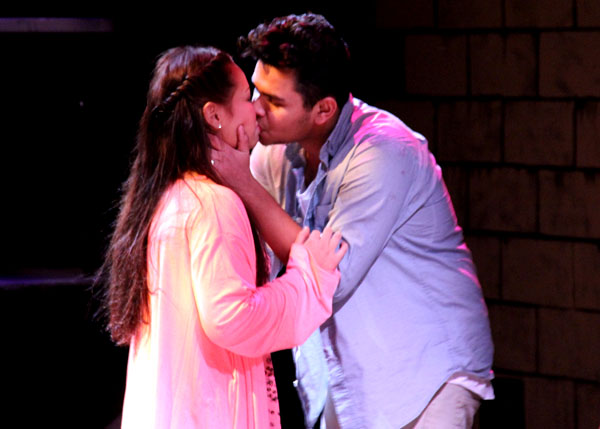 By Fatima Farha
February 20, 2014
You may know the classic star crossed love story of Romeo and Juliet, but you definitely don't know Niles West's version. In this school production, Romeo and Juliet are taken to a whole new level. Although the original play takes place in an old Verona, this performance is set in a more modern Chicago.
Niles West theatre is scheduled to put on a performance of the classic Shakespearean tragedy, "Romeo and Juliet," from Friday, Feb.  to Saturday, Feb. 22 at 4:30 and 7:30 p.m. in the Black Box theater.
The vicious rivalry between the Capulets and the Montagues will revolve around politics, with Lady Capulet being the head of the Capulet family. As a matter of fact, some of Capulet's original lines became Lady Capulet's.
"We changed a bunch of Capulet and Lady Capulet's lines to make Lady Capulet a sort of "Hillary Clinton"-esque character to enhance the political race and add in the gender competition between Montague and Capulet," stage manager Lila Gilbert said.
Instead of fighting with swords, the fighting will be mostly street-fighting, with pipes and hammers. In an effort to make things seem realistic, a professional stunt coordinator, John Tovar, was hired to help choreograph the fight scenes.
"[Trovar is] awesome. A few of the other adults have worked with him before and he came in for a total of five days to teach us and choreograph how to fight. 'Slow is safe' is his motto,'" Gilbert said.
According to senior Caleigh Havansek, who will be playing Peter (originally the servant, now the assistant campaign manager for Lady Capulet), this new perspective towards the story gives it a different meaning that many will enjoy.
"This production is honestly one of the best ones I have been a part of, a lot of our actors are doing some of their best work, and I think people who know them will be surprised," Havansek said, "Students should come see it because it really helps you get Romeo and Juliet, even if you hated it in English class. I know so much more about why the story happens and the beauty and tragedy of it. It's really cool to see it in a modern context because it relates it to an average teenager, you have to remember, Romeo and Juliet are 17 and 14."
Senior Sharon Mathew, who is in the costume, agrees with Havansek. The play will hit close to home due to where it is set, but it will also appeal to the audience even though some may consider Shakespeare to be "floral and beautiful" while others just think it's "flowery and unnecessary."
"Well I think when people hear this version of Romeo and Juliet is modern, they think of the crazy version with Leonardo Dicaprio. But our version is based off somewhere close to all of us: Chicago," Mathew said. "But the conflicts of his plays are still relevant. Young love, miscommunication, violence. They're all still here. We're not just a high school doing Shakespeare, we're a company giving it every ounce of emotion the story demands, because these are ways people still choose to handle conflicts and it can become ridiculous and tragic."