Boys Basketball's Postseason Hopes End with a Loss to Maine South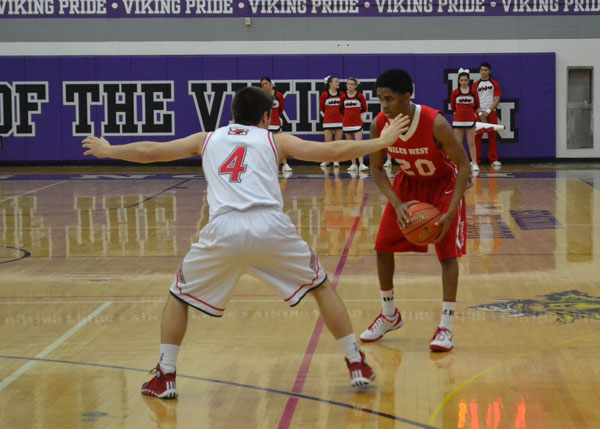 By Rand Jassar
March 5, 2014
Niles West put a lot of energy on the court, attempting to defeat Maine South in the second game of their postseason after a 74-58 win against Von Steuben on Monday–but came up short with a  69-33 loss on Tuesday, Mar. 4.
After the referee threw the ball in the air indicating the start of the game, the Wolves took control. This only lasted for a few seconds, however, as the Hawks steal the ball and score the first basket of the night. After going back and forth, from red to white, from a wolf to a hawk, the first quarter ended with a score of 17-7 in favor of Maine South.
This seemed to be the course of the rest of the game. The Wolves tried to even out the scores, looking for a spark of energy from blocking some shots and trying various strategies on defense. But no matter how hard the guys tried, the Hawks dominated the second quarter with a score of 28-18.
After half time, it seemed that the wolves were finally ready to score big points. Making one basket after the other, West brought the game within six, with a score of 34-28 in favor of Maine South. Soon after, however,  retook control and the third quarter ended with a score of 48-30 in favor of the Hawks.
No matter how loud the Niles West crowd–supporting their beloved wolves at Niles North– cheered, the fate of the game was very clear at that point. The wolves high energy and  spirits kept them fighting to  come as close as possible to the Hawks. Putting on a great defense, the Hawks seemed to be everywhere on the court. With no luck, the last buzzer sounded, indicating the end of the game with a score of 69-33 with Maine South victorious.
Although the game took a disappointing turn for the wolves, there's no denying that sophomore Evan Hines was one of the best players on the court that night. He scored 15 points- almost half the points West had– and made three point shots.
Head coach Bob Williams says that he expected the team to win that night.
"I expected a win," he said. "With three minutes to go in the third quarter and four points away and I don't know what happened, it's like all of the sudden we just stopped doing all the things that we normally do to be successful. That part is disappointing because we were prepared and ready to do this. So, we're very disappointed. I'm disappointed for the seniors- they've had a good career here and worked hard and we were expecting to win."
Sophomore coach Kyle Braheny agrees with Williams.
"We always go out there expecting to do our best," he said. "Did we do our best? At times we played well. If you look at it three minutes left in the third quarter and it was a four point game. Maine South is a really good team and we played hard at times but other times our inexperience showed: we weren't patient and we went back to our old habits and not doing things we needed to do to win. A team like Maine South is really disciplined so we have to be even more disciplined to play even better as a team. At times we did and at times we didn't and when we didn't do it, we got hurt."