Get to Know Sherlina Chauhan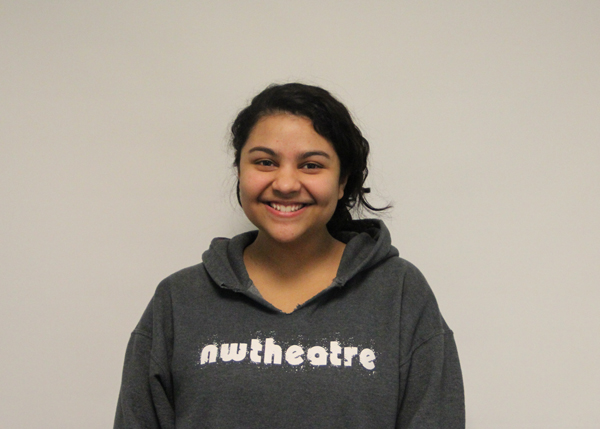 Between her outgoing personality in classes or her involvement in theatre, the Lit Center, and choir, you may already know junior Sherlina Chauhan. Her many extracurricular involvements have only added to her accomplishments so far in high school.
Chauhan juggles her AP classes on top of being involved in tons of extracurricular activities. As of right now, she's involved in theater, CEC, Relay for Life, book club, Hebrew club, Spanish Honor Society, H2O, Choir, and she's a Lit Center tutor.
"She's very focused on her grades, but at the same times knows how to still have fun," said  junior and friend Scott Albaum.
Her favorite extracurricular is theater, which she's been involved in since freshman year.
"I'm the most dedicated to theater. It was a perfect fit for me right when I came into high school. The virtues Niles West theater is about is ideal for me," said Chauhan.
Goals in life are clearly what's driven Chauhan to her accomplishments thus far in her high school career, but she has many more she hopes to achieve. Her primary goal is to "be the best I can be. Being happy in what I choose to do is very important, as well as helping others," she said.
"She's really funny and knows how to get you out of a bad mood when she sees you in one," said Albaum.
All her hard work in high school is in hopes of going into a career in the medical field.
"I love science, and I used to want to teach it until I realized I might as well apply it to the world if I care enough to pursue it," said Chauhan.
After senior year next year, Chauhan hopes to attend one of her top three dream schools which include Washington University in St. Louis, U of Chicago, and Northwestern.
There's no doubt that Chauhan's involvement has given her tons of opportunities to get to know different faculty members, but when asked who's had the greatest impact on her, she's quick to answer with English teacher Michael Graham. Her freshman year English teacher is still the one teacher here at West who has had a lasting effect on who she is today.
"Mr. Graham taught me everyday how to be alive and just about life in general. If it weren't for him I don't know when I would've opened my eyes and realized what's really important to me in life," said Chauhan.
On top of all her academic involvements, her dedicated involvement in the Niles West Theater department has also contributed to her experience and growth here at West.
"All of my theater friends are great, they're the reason I'm in theater. Everyone is so dedicated and supportive obviously, but they're also all so talented. They've taught me what commitment truly is."
When asked what she likes to do when she manages to have some free time, Chauhan was quick to answer.
"I like to hang out with my friends, sing, and read," said Chauhan.
One of the most contributing parts of her life is her faith. Chauhan practices Christianity, and says it's contributed to who she is and how she lives her life.
"As a result, I would say that my biggest role model is Jesus, because I study Him and His life, and try to live my life in his footsteps," said Chauhan.
Her advice to the rest of her peers, "Chem-is-try. That's the one thing I thoroughly learned last year in high school."