'What's Between Her Legs Doesn't Matter': Sliwa Younadim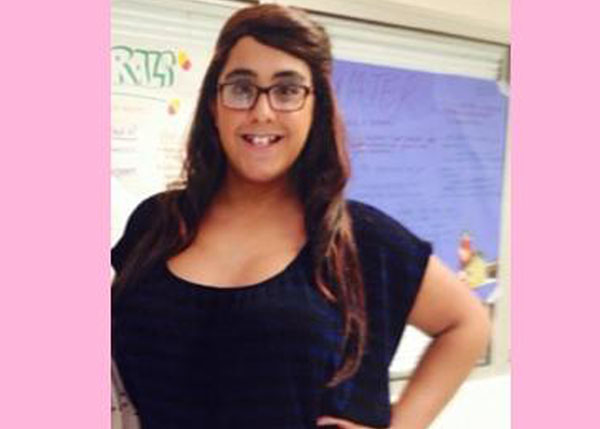 By Giovanna Zavell
April 15, 2014
All her life, freshman Sliwa Younadim wanted to be a girl. The first time she ever dressed as a girl was a school day this year, October 30. She loved it ever since.
Younadim strives to express herself in a world that may disagree, criticize, and look down upon her ways. She was the first transgender to switch homerooms, from a boy's to a girl's.
"It's hard to explain how I knew I wanted to be a girl, it was just inside of me, it's how I was born," Younadim said. "Puberty was terrible. Everything happening to my body was the exact opposite of what I wanted. I was becoming more manly, and gaining muscle. I hate muscle, yuck! It was a difficult time, but I got through it and continued to be who I wanted to be."
Today, during the Day of Silence, students can take part in this movement of remaining quiet for the duration of an entire day to call attention to the silencing effects of bullying on LGBTQ students, such as Younadim, in schools around the world.
"Niles West has such a long tradition support," Gay Straight Alliance sponsor Sherry Baehr said. "With such a strong, active GSA group, teachers and students commit to making a safe and welcome community."
"I don't dress as a girl very often in school because I feel like it's not a good place because, well it's school, it's a place for learning, a building of education. Plus it's not as fun dressing up if I do it every day, it's more special to do it spontaneously. I do dress up more outside of school, mostly on the weekends, but not every weekend. I love it because I can see myself the way I want and I can be myself freely," Younadim said.
It is said that most bullying takes place in middle school, but it never fully stops there. Over 7,000 seventh and eighth graders were examined to see the effects of homophobic bullying in a school climate. The results, as reported by Center for Disease Control and Prevention show that  LGBTQ youth reported high levels of bullying and substance use, feelings of depression, and a greater number of attempted suicides than their heterosexual classmates.
Another survey was conducted, specifically on LGBTQ students aged 13-21, by the same researches as above, except this time, the survey was primarily focused on in school experiences. The study found that eight in 10 students have been verbally harassed, four in 10 have been physically harassed, six out of 10 feel unsafe, and one in ten have been a victim of physical assault, all in a school setting.
Expressing oneself freely in public comes with its ups and downs. Unfortunately, Youndamin still receives rude comments, and feels when she goes into public as a girl, she is instantly spotted.
"It's difficult to express myself freely, but I think high school has really opened doors for me, more doors than I had when attending Lincoln Hall," Younadim said.
One of those doors includes friend and fellow member of the LGBTQ community, freshman Joel Tutor. 
"We are like siblings! If anything is happening with her, good or bad, or she is being bullied, I am always right there at her side protecting her," Tutor said.
Schools across the country are realizing the danger of such bullying, and pushing to advocate for a safer environment, and offer safe havens for LGBTQ students where they can go to be with friends, find support, and seek help if needed.
"We strive to be inclusive of all students, and I think the NAMES program and GSA really help with that because they offer awareness, support, and acceptance of others," Director of Student Activities Jessica Pritzker said. "The students here are so used to diversity which ultimately makes them used to everyone's differences. You don't really see this kind of diversity in other schools which is why West is such a leading school in accepting those in the LGBTQ community."
Youndamin embraces the diversity and acceptance of West with her love of fashion and heels. She owns one pair but hopes to acquire more. Tight clothing is her favorite when dressing up. She strives to follow her fashion icons, the Kardashians.
"When I turn 18, I plan to transition completely, surgery and all so that I can be who I want to be," Younadim said. "I have a younger sister, and my family is used to [having] a boy and a girl, but when I transition I know it will take some time getting used to having two girls. My family is supportive, but it came as a shock when I told them I was gay at the beginning of freshman year, and then transgender a little bit after," Younadim said.
Her friends are also extremely supportive and love her for who she is. Younadim came out as gay to her friends in 8th grade.
The acceptance she gets from her friends and family is a relief.
"I can be me without having to change for anyone's expectations. What's between your legs does not matter, what really matters is what's in between you ears, in your mind, and how you see yourself and what you want, that's what matters," Youndamin said. "When I dress as a girl, it's not about being passable as one, it's about being me, and doing what I want to do. I don't care what others think, this is me, and I love every bit of it."