First In State: Swimmer Cameron Lee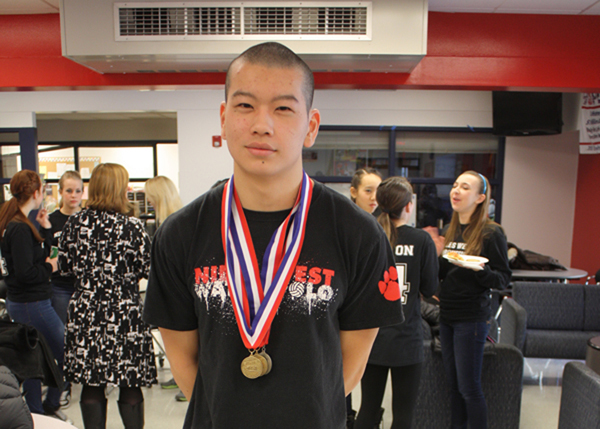 By Danny Thompson
March 13, 2014
Sophomore swimmer Cameron Lee is something to watch in the water.  He is recently back from the state tournament where, in his first year on the Niles West Swim team, he has taken first in state in the 100 meter and 200 meter, and second in the 50 meter freestyle for athletes with disabilities.
"Finishing my races at state and looking up at my name on that board and just seeing that I'd beat my times was such a great feeling," Lee said.
It makes sense for him to dominate in the water, as he has been in the pool nearly his whole life.
Lee began swimming at an early age when his mother signed him up for Swim America classes. After progressing through all the levels of the Swim America program, he began to swim competitively, and has enjoyed much success while facing both athletes with and without disabilities.
"Regular season I swim with people without disabilities because it's not that big yet, but during state I went against some guys from class A and other guys from class B," Lee explained.
Lee is in events for athletes with disabilities because he has something called Charcot-Marie-Tooth disease, which affects his ankles and forces him to walk on the outsides of his feet. Even still, the sophomore swimmer is one of the best in the state, posting his first place times of 1:06.08 in the 100 and 2:29.06 in the 200.
It's cliche at this point, but the number one thing that goes into first places at state is "a lot of hard work," Lee said with a smile.
"At times I dread swimming because practices are so tiring," he admitted. "Morning practices especially take a toll on you, but in the end it's all good… It's really fun."
Outside of the pool, Lee is an avid reader and spends a lot of time with his friends while also playing the guitar, the bass, and the ukulele.
"I'm into trance which is electronic dance, hard rock, alternative, and some heavy metal," he said.
So what can the future hold for an up and coming athlete like Cameron Lee? Ask him and he'll let you know that he's got big plans.
"Hopefully I do get back to state my next two years, and reach another level to try to push my times to nationals, and hopefully, hopefully with hard work and luck I can try to achieve one of my dreams, which is to be a paralympian."
Sophomore teammate Adam Orynczak has faith in Lee to see that dream through.
"He keeps up with all of us in practice easily, and I think he's got a lot of potential to make it back to state, even nationals, even the paralympics," Orynczak said.
 [nggallery id=315 template=galleryview]