Eleni Balourdos: Volleyball Sensation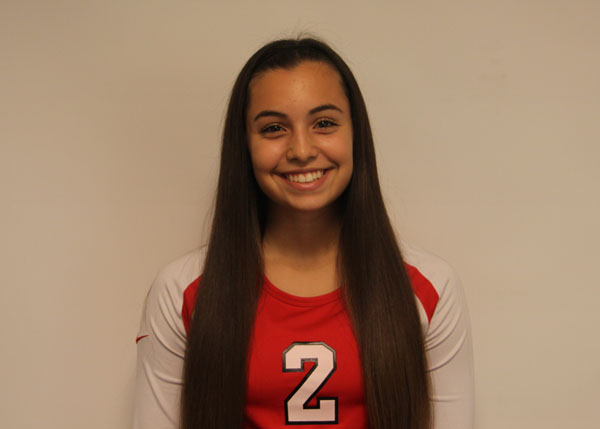 By Sarah Govis
August 29, 2014
Sophomore Eleni Balourdos sits in a circle with the varsity volleyball team. The girls are sitting silently, writing out their personal goals for the remainder of the season. Their coach calls on them one by one to share their goals with the whole team.
Among Eleni's goals are to beat Niles North, win regionals, and be a leader on the court at all times. After goal setting, the girls move onto running laps, where Balourdos leads the pack. They stretch, and then move through their drills. Balourdos' focus and drive throughout the drills is clear. Each of her movements are precise, and she does everything with purpose. Balourdos made the varsity team as a freshman, and this year, she is a captain on the team.
She attempted other sports before she knew she wanted to play volleyball. "I played soccer for a year, and I was really serious about it, but when I first touched a volleyball, I knew it was what I wanted to do," she said. Balourdos first started playing volleyball as a sixth grader in middle school. "I started playing in sixth grade. There was a sixth grade team and a seventh and eighth grade team, and I made that team. I made varsity as a freshman," she said.
Niles West alum Olivia Rusek inspired her to continue playing and improve. Rusek went on to play collegiate volleyball. "Olivia Rusek is playing division one volleyball. When I saw her, that made me want to do better. She inspired me because she loves it so much and was so good at it," Balourdos said. "If I saw someone was better, I wanted to work as hard as them to be better."
Coach Stacy Metoyer believes she has something extra that separates her from the rest of the team. "She has a high degree of passion for the game and focus level. She's all business when she steps in. She's always trying to get better and make her team better," she said. As a freshman, her coach believed she had everything she needed to make the varsity team. "It's very rare to have a freshman make the team. It's hard for freshman because you need a lot of experience and strength," Metoyer said. "But she had all the components."
Balourdos' position as a freshman was on offense, which is especially rare. "She ran the offense, which is unusual for freshman. But the two words to best describe her are maturity and dedication," Metoyer said.
Her teammates think she is a strong player as well. ""Freshman usually aren't as experienced but she's mature and totally takes charge," junior Cindy Lee said. "She's a great player.  She'll get better, and I want to see her go to colleges and play." Many of Balourdos' teammates admire her abilities. "She's a great player and has the ability to lead people at such a young age, which is admirable," senior co-captain Atorena Michael said.