2014 Niles West Girls Varsity Tennis Preview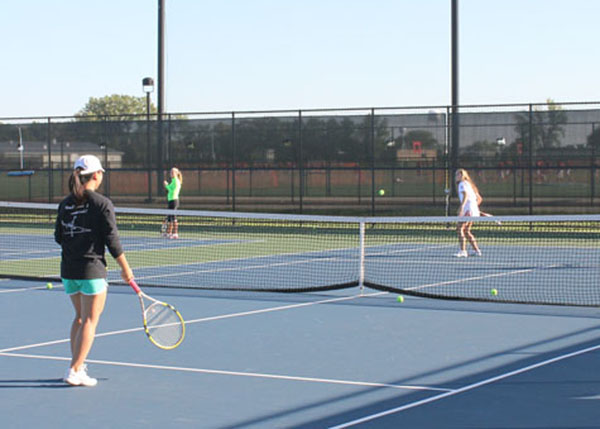 With a fantastic start to the new season, girls varsity tennis is already preparing for sectionals. NWN was able to talk to varsity player and sophomore Eliza Kirov and the head coach George Bravos. 
NWN: What are your goals for sectionals?
Kirov: Well, we want to win. We've been practicing a lot and trying to improve our game in any way possible.
NWN: How do you prepare for games?
Kirov: We practice a lot. We usually try to do drills that will help us in the actual game. We do some volleys, serves and backhands/forehands and cross court shots and a lot of cardio workouts to help us keep up our endurance.
NWN: How has the season been for you so far?
Kirov: It's been great! Practice has been tough because we've been pushing ourselves to do our best. We're trying to strengthen our weaknesses and erase any possible flaws while playing. I've won all my matches so far as the practice is really paying off.
NWN: What are some of the strengths of the team?
Bravos: We have three time state qualifier and our number one singles player Eliza Kirov Then we have our number two singles player[senior] Analise Vujica and number three singles player[senior] Katie Chleboun.
NWN: What are some of the returning varsity players?
Bravos: Returning varsity members are [seniors] Cassie Bergman,  Chleboun, Monica Hochberg,  Lucy Rees, and Analise Vujica.
The girls play today at Deerfield today at 4:30 pm.