Rebecca Harbeck: From China to University of Chicago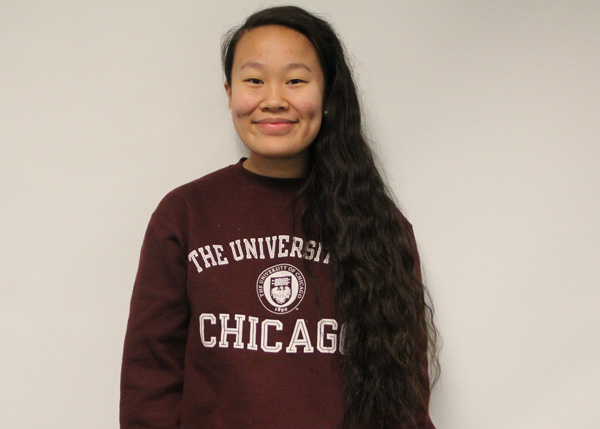 Senior Rebecca Harbeck was fifteen months old when she was adopted from a southern province in China. After having immigrated at such a young age, she spent her childhood in the Chicagoland area where she endured her own journey of coming to terms with her adoption. As many can only imagine, it has undoubtedly had an enormous impact on who she is today, as well as how she sees both the world and herself. Rather than acting as an unsurpassable obstacle, she has managed to utilize the true implications of her adoption to further form her identity and perspective in life.
"I think it's an ever-evolving process. You don't understand it when you're little, or its true implications," Harbeck explained. "It's difficult because people notice you don't look like your parents, especially at the age where you're already self conscious."
One of her most profound moments during her journey of acceptance and growth, came from watching the documentary "Somewhere Between" at Northwestern University.
"Seeing that experience was beautiful. I hadn't been exposed to those kinds of films," Harbeck explained. "It showed me that it's not weird to feel this way, it's normal, it's ok. Overall it helped me accept my identity."
Although she has had a strong community around her as she's grown up, it hasn't always been easy.
"Being a Chinese-American, you try to assimilate to be like others so you don't stand out, I think that's just the way society has forced people of color to act in the U.S.," she said.
Her experience as an adoptee has inspired her to pursue a career as either a lawyer or a professor. Harbeck hopes to intertwine her first-hand experience and knowledge into whatever she goes into in the future.
"One of the reasons I do want to go into academia, to become a professor, is because I think that nobody is going to know about it if we keep silent," she explained. "I'm really into [academia] and there's a lot to be said and taught."
Between debate, National Honor Society, yearbook, and the lit center, Harbeck has managed to go above and beyond in each activity she's pursued. This impassioned, dedicated involvement in her extracurricular activities has led her to her most recent success: admission into the University of Chicago. In the fall after she accepts her admission, she hopes to pursue a degree in sociology, political science, and possibly Chinese or Eastern Asian studies.
Harbeck's debate career has provided her with much more than a few awards and recognitions.
"School has gotten exponentially easier, because you're used to supporting claims, finding evidence, etc. Also, it teaches you self confidence, because you speak in front of strangers all the time," she said.  "It made me realize how much education means. It was a wake up call that I'd be a senior in a few years and not some professional athlete. It's taught me to have responsibility to my team, partners, and opponents."
Harbeck's peers believe she is an asset to all her extracurricular activities and classes.
"She always manages to stay on top of everything he takes on, and as co-captain of our team, she makes early morning drives to tournaments, just a little more enjoyable," friend and fellow debater, senior Nina Saro said.
Her hard work and persistence has not gone unnoticed during the past four years.
"She's always working on school work, even during class she's always doing work for another class. Becca's just a very genuine, hard-working person," friend and senior, Maya Caballero said.