Fine Arts Friday: Muhammed Javed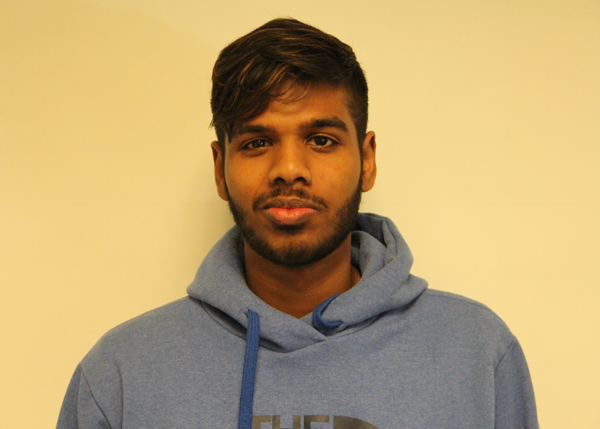 By Katrina Nickell
January 30, 2015
Joining the Niles West community back in the fall of 2014 after being home schooled for two years, sophomore Muhammed Javed thought his best way to meet people was joining Niles West Theatre.
 "I'm new at Niles West, so I had to get to know people. [I felt that the] best way to get to know people is do stuff that other people are doing. I was thinking maybe cross, basketball, you know, everything," Javed said, "The worse case scenario is that I get a no and realize theatre isn't for me. So it helped me grow as a person."
 Becoming an actor has been one of the greatest learning experiences for Javed.
 "One of the biggest things I've learned is to not care sometimes. Take chances. If you look stupid sometimes, it's okay because everyone is looking stupid," he said.
 Javed has taken part in Niles West's production of She Kills Monsters and Director's Studio, always playing a character with similar attributes.
 "I've realized I always play an idiot, never someone smart. I just always play myself," he said.
 Reflecting on the the beginning of the year until now, Javed is happy with his choice in getting involved with theatre.
 "Joining Niles West Theatre has made it easier to talk to people, and be more outgoing."
 But Javed's impact on the Theatre program goes beyond his own experience. Many fellow members think Javed's addition has been very positive.
 "Muhammed is one of the most effervescent, exuberantly enthusiastic actors I have worked with. For better or for worse, he will always have the most energy of anyone in the room. Whether he's about to kick you in the face, or teach you a handshake, or do a British accent, he will always give the performance everything he has," sophomore Grant Killian said.
You can be expecting Javed's next performance in Niles West's upcoming play, On the Razzle, where he will be playing his familiar character as the Coachman.