Michelle Berkovich: Hard Work Pays Off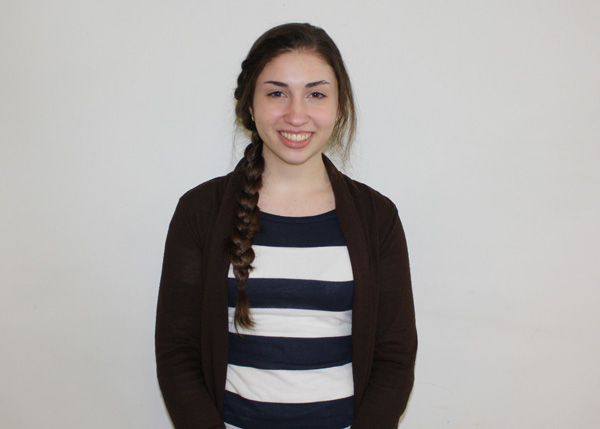 If you've never met a person with as much character as senior Michelle Berkovich, then that's no surprise. With the balance of smarts and toughness, Berkovich can teach you a thing or two in class or in Tae Kwon Do. She has eight years of experience in the martial art and a black-belt to prove it.
"It has made me a lot stronger, not only physically but mentally. It also gives me a lot of confidence. It's always fun to see people's reactions when I tell them that I'm a black belt because you usually wouldn't expect that from someone as small as me. I have mostly sparred with guys because not many girls are as involved as I am, and they'll tell you that I can kick some butt despite my small size," she explained.
Her passion and dedication in a match can also be recognized in the classroom. She's motivated and always challenges herself in order to be better. Even as a senior, she drives to continue to work towards her goals by taking difficult class. Her hard work in academics also placed her in the National Honor Society and in German Honor Society.
"Academics are a huge aspect to my life. My parent's have really instilled in me that if I work hard now I can succeed now and in the future. By taking my parents wisdom I've learned to work hard for myself. It makes me happy when I can see all my hard work that I put into school pay off and when it doesn't, it only inspires me to work harder," Berkovich said.
Her hard work isn't for glory or to boast about. It's about taking the opportunities given to her and making the best of it for herself and others. Although it may seem like she has a natural sense of knowledge there's more to it. She puts in the effort and time to understand new concepts whether in Calculus or Biology.
"I don't really care if other people acknowledge my hard work because what's important is that I know that I work hard for everything that I want. It does not come easily to me.  I am really hard on myself sometimes but I think it's good for me."
Michelle's self motivation to learn and grow as a person is shown in her selfless activities throughout her time at West and in life. She's involved in Relay for Life, Israeli Club, Book Club, and enjoys babysitting her two cousins that "are the cutest."
Senior Sherlina Chauhan, one of her good friends, talked about how Michelle has been there for her throughout their friendship.
"As busy as she gets, she's always willing to make time for a friend, even if it means staying up the extra half hour to explain something to me. Her sincere work ethic pushes me to perform at her level and beyond; this is how she has unknowingly been there for me," Chauhan said.
She has grown as a person since she started here at Niles West and has plans for the near future. She plans to attend college and study nursing in addition to pre-medicine.
"I'm going to have a pretty busy schedule in college, but I'm really looking forward to it." she said. " My ultimate goal is to go to medical school and become a successful pediatrician, so I can brighten up the lives of cute little kids!"
A passionate, kind-hearted, motivated and hardworking person can sum up Berkovich. She takes what does seriously and makes sure to have fun. Her love for others is an instinct and she'll continue to be there for others in the future. The road ahead of her is filled with great things to come.