Administration Eliminates Blood Drives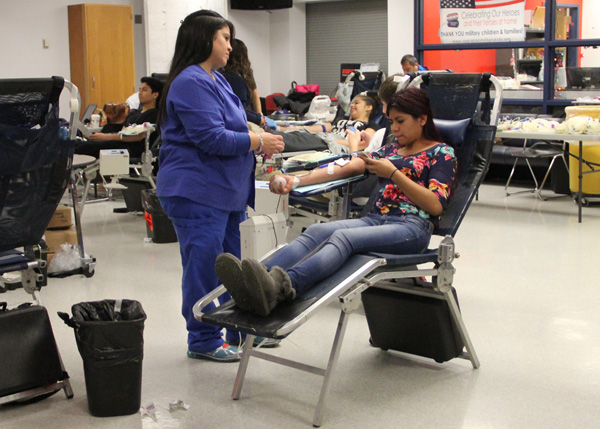 By Sana Kadir
March 4, 2015
Due to problems during a recent blood drive at Niles North, district 219 administrators have decided to eliminate all blood drives during the school day at both schools.
The annual National Honor Society blood drive at West, which was originally scheduled for Tuesday, Feb. 24, was cancelled as a result.
Niles North hosted a blood drive Feb. 12 during which many students missed two to three classes because of a larger than expected turnout.  Students are typically encouraged to donate during their lunch or study hall period, or during their physical welfare class, a process that usually takes 40 minutes, according to community relations director Jim Szczepaniak.
"Unfortunately, the donation process took a lot longer for most. Many students expressed frustration not only by the long waits, but also about missing class. The school and district offices received several calls from parents who were upset about their children missing class," he said. "Superintendent Nanciann Gatta talked with both principals, Jason Ness at West and Ryan McTague at North, and they agreed that, going forward, we would not hold blood drives during the school day."
According to Szczepaniak, Gatta contacted LifeSource, to "let them know that the district will be happy to support blood drives at our schools on weekends or after school hours. Doing so would also allow members of the wider community to participate in the drive, if that is something our students would like to organize."
NHS sponsor Daniel Gin, who has been directing the blood drive for six years, said Niles West has never had any problems with students missing too many classes.
"I'm disappointed that NHS isn't hosting the blood drive any more because it gave students a chance to give something back that's tangible," he said.
Students at both schools said they were upset with the decision and disagree with the solution of holding blood drives outside of the school day.
"In school, we learn how to act and help around in our environment. I finally was eligible to donate and now I'm being restricted because helping others took too long," Niles North sophomore Ajmal Ahmed said.
"I think that it's fine going through school because it's one day, and it's for a good cause. I don't think my teachers would complain about me missing class when it's for a good reason," Niles West sophomore Adrian Micor said. "Before school, students might miss something such as early bird or clubs and sports after school. Plus if athletes donate before practice it might put them in danger of having low energy. Regardless, it's going to get in the way of something."
While some physical education teachers were upset that students had been allowed to miss their gym period to donate blood, P.E sub Paul Keenan said, "It teaches kids to give something of themselves. One day, god forbid, one of us might need a blood transfusion, and for me it's a personal thing. My sister in law passed away last year, and she had to get blood transfusions all the time. I mean getting to class is important, but this is giving the gift of life, this is important."
Despite student and faculty opinions, administrators emphasized the loss of instructional time.
"We're glad that our students felt empowered to give back by donating blood, but not at the expense of instructional time," Caroline Benjamin, student activities director at Niles North, said in a statement. She helped oversee the event.