2015 Boys Varsity Baseball Preview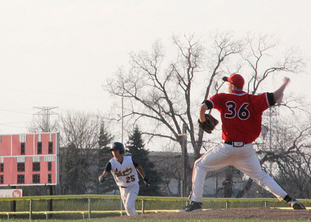 The NWN had the chance to sit down with Garry Gustafson, the head coach of the Boys Varsity baseball team, to discuss the team's season in progress.
NWN: How has the team progressed leading up to this season?
Gustafson: We have worked hard throughout the off season in the weight room, and I think we are prepared for the season. We are ready to compete this season.
NWN: What have practices consisted of?
Gustafson: We worked a lot of fundamentals, we have worked a lot of pitching with a lot of veteran guys with some young guys coming back, and I think our pitching is going  to carry us into the season. We have a well focused group that is getting better every day.
NWN:What are the strengths of this years team?
Gustafson: Our pitching staff this year is looking to be all-around solid. This years pitching staff is going to be led by seniors Adrian Santiago, Tyler Stegich, Blake Kons and George Georgevich. On the field, some leaders are going to be seniors Kevin Lochner and Tommy Galanopoulos.  Giving the team some stability are sophomores Andres Liboy, Bobby Lochner, Michael Gunartt, and Johnny Pabst. 
The Wolves are looking promising early this season, with a very deep bench, and some experienced players leading the way, The wolves baseball team is one to watch this season. The boys are scheduled to play today at St. Joes, throwing the first pitch at 4:30.