Meet Me in a Minute: Jimbo Pestano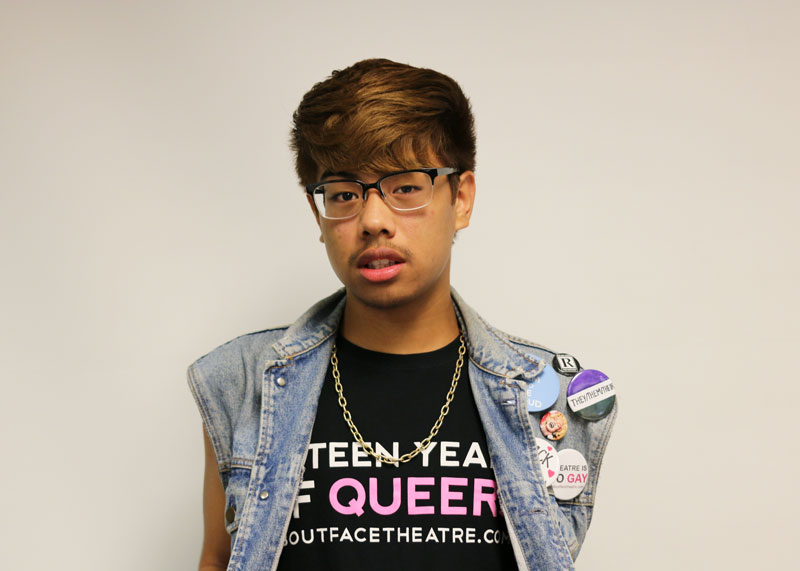 By Thea Gonzales
August 20, 2015
Editor's note: Pestano uses they/them pronouns to identify themselves.
Strutting down the hallway, junior Jimbo Pestano's shirt proudly declares, "16 years of queer," something that is true for both the aforementioned queer individual and About Face Theatre in Chicago, a theatre company dedicated to the recognition of and activism for queer rights. Since their first spur-of-the-moment decision to audition to the outside-of-school company two years ago, Pestano has been acting in shows that showcase true stories from the LGBT+ community on stage.
"It's a new learning experience. We are dedicated to opening dialogue about queer issues and making it prevalent in society that this is something that needs to be talked about…it is a safe space. It's a platform for us as queer individuals. It is a safe space for me," Pestano said.
Ever since first entering Niles West, Pestano has made a name for themselves in the fine arts niche, being recognized not only as an actor but as a singer, dancer, and fashion connoisseur.
"Jimbo is always enthusiastic about performing and gives so much energy to our department," friend and senior Brendan Tiongson said.
One other thing you might notice about the gifted junior is how strongly and proudly they are rooted in their identity. Pestano's friends already know what pronoun to address them by, but others who don't know Pestano also don't know that they are genderqueer.
"I do consider myself genderqueer, which means I'm not either gender. It's something outside of the gender binary. It's under the trans umbrella," they said.
Outside of school, Pestano also does drag shows with their alter ego, Angelica Grace, whom you might see pretending the hallway is a runway later this school year. With their vast knowledge of wigs and beauty products, Pestano expresses their identity in another way by dressing as Angelica, something that would not be possible if they did not have the support and courage to come out during their sixth grade year.
They faced bullying and social strife both inside of themselves and in their family, but having so much time since to deal with their sexuality, Pestano has strong advice for all queer kids struggling with coming out or dealing with negativity.
"I think you have to go out and find a safe space. Find a mentor or a group of people… just find an area where you can be yourself and hold on," Pestano said.