Joel Tutor: Beyond the Uniform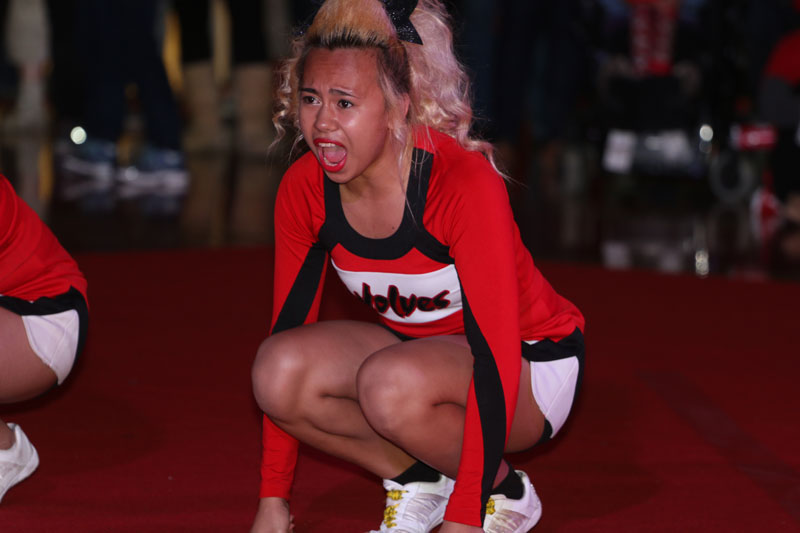 By Duaa Israr
October 22, 2015
[dropcaps type="kp-dropcap red"]T[/dropcaps]he entire crowd is quiet as the lights go down and the spotlights come up. The Niles West cheerleaders get into position with solemn expressions outlining their faces. Suddenly, the opening chords of Ellie Goulding's "Out of My Mind" begin to play and the deafening screams of the crowd can be heard from a mile away. Dressed in the standard girls' cheer uniform consisting of a red, black, and white mini skirt and a fitted long sleeved shirt, junior Joel Tutor crouches down, preparing for the next segment of her routine.
Tutor is a transgender female, meaning her gender differs from the one she was assigned at birth. When Tutor tried out for the cheerleading team as a freshman, she made the squad, however, she wore the boys' uniform — pants and a short-sleeved T-shirt. At the beginning of sophomore year, Tutor decided that she would no longer continue to question herself. She took steps to transition fully and let the world know who she was.
"I accepted who I was and I talked to my cheerleading coach, Ms. Casey. I told her that I didn't think the boy's uniform was right for me, and that I wanted the girl's uniform," Tutor said.
Cheerleading coach Caitlin Casey, has worked alongside Tutor for three years now, watching her improve every day at practice. When Tutor revealed that she wanted the girls' uniform, Casey took immediate steps to help Joel transition into the person she was always meant to be.
"When Jo first came to tell me that she no longer felt comfortable in the uniform that she had, and wanted a girls uniform I knew that I had to do something, and I knew it had to be done quick," Casey said, "I knew that Joel had rights, and those rights had to be fulfilled by the school in its entirety. Every individual should feel proud of who they are, and feel confident in the clothes they choose to wear. I could not stand to watch Joel struggle with this and I went and sought out more specialized help."
Casey worked alongside the athletic office and the school psychologist, Jennifer Hahne to help Tutor get the girl's uniform.
"To watch Joel at her first game, in her new uniform, was a super proud moment. I felt so happy to see that with just a little bit of consideration for how any person is feeling we could pave the road of acceptance. Jo came to the field smiling, laughing, and all dolled up with a new found confidence. I knew she had found what she needed to truly be herself," Casey said.
While many people might assume that an outfit wouldn't have much impact on a person's confidence and form, they couldn't be more far off from the truth. Tutor's confidence wavered greatly when she wore the boys' uniform and it not only impacted her performance on the mat, but off the mat as well.
"I have learned so much from Joel and I appreciate her every lesson. Joel is an incredibly talented cheerleader. Really, I mean outstanding. Her skills were never shadowed by a uniform, but her confidence definitely was. Joel's freshmen year was tough, and not only tough on a cheer team, but tough everywhere. She knew that she had support from her cheer team, and I feel like cheer became a safe place for Joel to push herself both physically and mentally her freshman year," Casey said.
The minute Tutor was presented with the girls' uniform, she was met with undying support from all of her teammates, coaches, and nearly everyone at West. With the support from her peers, Tutor stepped onto the mats with a new found confidence that radiated not just during practice, but everywhere she went.
"I supported her decision to wear the girl's uniform and accepted her. I pray for her too. Sometime people will call her names and so I pray that she knows she is loved," junior and fellow teammate Tijana Gataric said.
HER STRUGGLES
Even though Tutor has fully come to terms with who she is now, things weren't always that way. And unlike Tutor's friend junior Sliwa Younadim, Tutor wasn't always so sure of who she was or what she wanted to be.
"I remember it was in fifth grade and I was hanging out with one of my sisters. I tried on her clothes and, I don't know, I just knew that I wanted to be a girl," Tutor said.
But it wasn't until the end of eighth grade that Tutor finally came out and let everyone know that she was transgender.
"I never really told anyone what I was feeling, but at the end of eighth grade I came out as a girl. My family was extremely supportive and they had already known. Before the start of freshmen year, they took me shopping and helped turn my entire wardrobe into a girl's," she said.
Tutor entered her freshman year excited and ready to express herself, but that's when the confusion kicked in. Tutor struggled with accepting herself and her fear of how people would react and the judgement she would face took over.
"I didn't go to the pool at all because I didn't know what to wear [in terms of gender]. I was so scared because I didn't fully understand who I was and I was scared of what people would think of me. I felt like I still looked like a boy, but I knew that I didn't want to be one," Tutor said.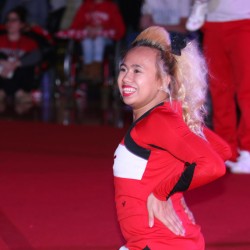 Tutor soon found herself as the victim of degrading comments. She found herself being referred to as a boy and she discovered the comments had a bigger impact than she initially thought they would.
"I had teachers ask me if I wanted to be called a he or a she and I would tell them to call me by my name. There would be people who would answer for me and tell teachers that I'm a boy. I was scared to correct them. I would get so embarrassed and I hate getting embarrassed," she said.
With the help of her friends, such as senior Jimbo Pestano, Tutor embraced who she was and became the person she is today.
"I was probably one of the very few flamboyant people who wasn't afraid to be themselves. It's about confidence. I think her seeing me struck something inside her. An inspiration you could say. When you see someone like you, I think it's a great, comforting feeling and an awesome way of saying 'forget you' to the people who bash, taunt, and oppress us. She did just that," Pestano said.
Recently, in a survey conducted by Injustice at Every Turn, 41 percent of transgender people attempted suicide and that number only increases to a staggering percentile as trans people are faced with physical and sexual violence. Seventy-eight percent of transgender people attempted suicide after facing physical and sexual violence; a number, that is steadily increasing instead of decreasing.
Pestano's unconditional support and constant presence helped Tutor face her insecurities, resulting in a one of a kind bond between the two.
"Joel and I have definitely created a special bond. A bond that I think being a young person in the LGBTQ+ community needs to have. High school is tough, especially when you are a part of our community. Being young trans people, you have to look out for each other," Pestano said.
Injustice at Every Turn also reported that nationally, 75 percent of transgender people face bullying in school, and Tutor is one of the many transgender people all too familiar with the insults and derogatory names.
"In middle school, there were many times I was bullied. I remember in sixth grade, these boys were bullying me in the locker room and they threw my stuff out the window. I remember crying and telling teachers about the incident. They were really supportive and wouldn't stand for the bullying. They told the boys to stop and they would be punished," Tutor said.
Despite the bullying she had to face, Tutor says she was lucky to always have someone supporting her, whether it was her family, teachers, friends, and even people she didn't know.
"I remember that even when the bullying got bad, there were people there to support me, even if they didn't know me. This one girl came up to me in the hallway in middle school when she saw me crying. She stood by me and asked if I needed any help and if she needed me to get someone. She made sure I was okay," Tutor said.
While Tutor had the support of her friends and family, many transgender students do not. Just this August, transgender teen, Lila Perry from Hillsboro, Missouri was subjected to hate and discrimination by her peers.
Perry, who identifies as a female, occupied the girl's bathroom in her high school which resulted in an uproar. Students and parents banded together to protest Perry's presence  in the girl's bathroom and demanded that she use the boys' bathroom for the other students' safety. One parent threatened to sue the school if changes were not made.
"I've never experienced that situation in particular, but what happened to her is horrible. Having a protest against you and not being able to use the girl's bathroom because of who you are, that's really mean. If that happened to me, I would probably move to another state. I could never live in a community that didn't support me," Tutor admitted.
Tutor continued, saying what happened to Perry could never happen at West. West is recognized for its diversity and acceptance, including their work with the LGTBQ+ community. This year, the school and district implemented a transgender policy that outlines accommodations for students who identify  themselves as transgender. 
"We are a very progressive district and we want to make sure that every student regardless of ethnicity, race, disability, sexual orientation, feels comfortable coming to school and getting an education. When you hear something like that [Perry's story] it's kind of sad actually. It's 2015 and you would think that that kind of thinking is archaic, it's outdated because there is so much more to it these days," assistant principal of student services Antwan Babakhani said.
Perry's story is just one example of the struggles and discrimination transgender teens face.
Injustice at Every Turn reported that one-fifth of all transgender teens have been homeless due to rejection from family. Luckily for Tutor, her family was unbelievably supportive when they discovered the truth.
"My family is extremely supportive. They knew that I was a girl by the time I turned four years old. I played with barbies, I dressed like a girl, posed like a girl; that's when they knew that I was transgender. I never actually came out, they knew. I showed up one day dressed like a girl and I didn't even have to tell them, they understood that this was me coming out," she said.
Tutor has made her teammates and coaches unbelievably proud by putting her happiness first and refusing to give in to the harsh criticism of society.
"Today when I see Jo I cannot help but smile. Her confidence and charisma blows me away daily. Joel is caring, fun loving, sarcastic, and a hard worker. She is so dedicated to her sport and her team. Things may not have come easy for her, but she sure proves her worth daily in the steps she takes to overcome all hardships, on and off the mat," Casey said.
Like many transgender teens, Tutor plans on changing her name soon.
"Some people will call me Joel, like Cole with a J. I'm planning on changing my name to Joelle. I hate it when people call me Joel (Jole) because it's usually the people who still think I'm a boy and don't know how to react that call me that," Tutor admitted.
She also plans on having a sex reassignment surgery after she graduates from college, followed by breast implants.
"I'm so excited to transition fully when I graduate college. I plan on getting my SRS surgery and a year after that, I'm going to get breast implants. I plan on getting my surgery after college because I want to do cheerleading in college and I'm just scared that something might happen. I'm still young and I don't want to focus on that right now," she said.
Tutor has her future worked out in terms of what she wants to major in and she plans on giving back to the people who have supported her through the difficult times in her life.
"I want to be a social worker, especially at Niles West, because they've just been so supportive of me and I want to give back. I want to help kids that are going through the same things that I went through. I also want to be a competitive cheer coach," she said.
After all the obstacles she has faced, Tutor wants people who are struggling through the same things as her to remember one thing: It gets better.
"Stay strong because everything gets better. In ten years, these people, the ones who don't understand you, they won't matter. You just have to focus on yourself," Tutor said.