Q&A With Tennis Sensation: Anna Chlopecki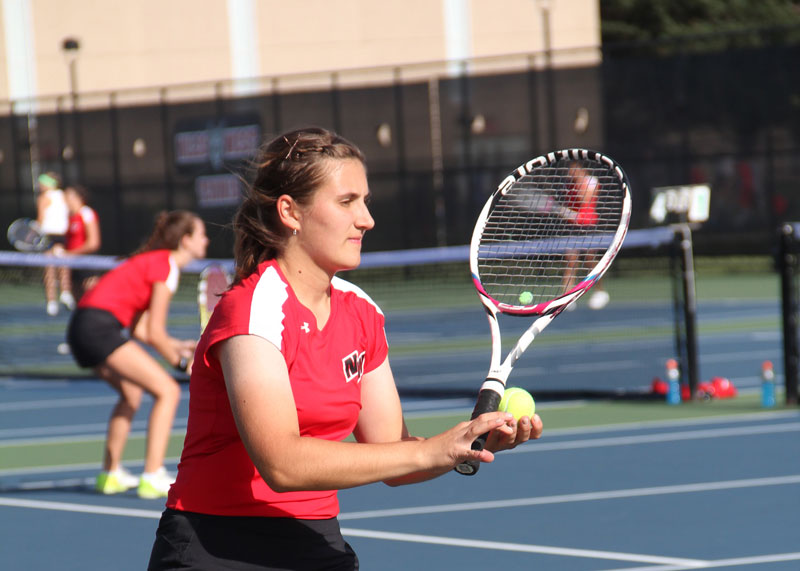 Girls Varsity Tennis coaches George Bravos and John Vana probably thank senior Anna Chlopecki's parents every day. After signing their daughter up for lessons in elementary school, she has evolved into one of the top players at Niles West. Now, as a second singles player, Anna is a team captain, though she credits the team's strong foundation to the aforementioned coaches, as well as her fellow teammates. As she says, "As the season progresses, the team begins to really become a group–you become a family." Anna shares her love for that family, her aspirations for the tennis program at West, and her hopes to continue tennis in college and beyond.
NWN: Why did you first join tennis at Niles West?
Chlopecki: Well, I played tennis before I came to Niles West, so it was an, "oh I play tennis; there's a tennis team" type of thing. I played it because I like to play tennis.
NWN: How long have you played?
Chlopecki: I played for four years when I was little, and now this is my fifth year since beginning again. So, in total, eight, just divided in the middle.
NWN: What made you first start tennis?
Chlopecki: My parents first put me into tennis. And then I got into ice skating for a good amount of time. They don't really have figure skating here, and it was a bunch of practices and taking up a lot of my time and I could do nothing else. But I missed tennis, so I decided to go back to it instead.
NWN: How do you feel about the tennis team at Niles West?
Chlopecki: I love the Niles West tennis team. They are such a good group of kids, so nice. I love them all to death.
NWN: How do you feel like the team has evolved since you've joined, to now, as a senior and captain?
Chlopecki: I think the team has evolved into growing as a whole, and as the season progresses, the team begins to really become a group.
NWN: What do you mean by that?
Chlopecki: When you first walk on the court, you don't know that many people. But then as the weeks go by, you become a family.
NWN: What are the best things about the team?
Chlopecki: We're very competitive, when we're in the moment. We're very sportsmanship-like. We are voted one of the best teams in our conference sportsmanship wise. We all genuinely like tennis. Among the people playing, we all genuinely love the sport.
NWN: What do you feel makes the team at Niles West unique, compared to other teams?
Chlopecki: Again, I think it's our sportsmanship. A lot of teams aren't the best in that. In the moment, their sportsmanship suffers. We're very good at composing ourselves so that no sportsmanship problems arise.
NWN: Why do you think Niles West is so good at that?
Chlopecki: We've just been taught over and over to always keep our sportsmanship up, because it's one of the most important things in any sport. If you're not nice to the person you're playing, then what's the point.
NWN: Who would you credit with that?
Chlopecki: Our coaches. I would credit Coach Bravos and Coach Vana.
NWN: How do you feel the coaching staff is working towards improving the team?
Chlopecki: I feel like they have done a very good job, in general. They work on things that we need work on. They don't overlook the stuff that's not going that well. We work on stuff that needs work, but we still practice what we're doing well, so we can do it even better.
NWN: If you were in a coaching position, what changes would you make to improve the team or the program as a whole?
Chlopecki: I honestly don't think I'd make any changes. I think the program has a very good base, and I think it's going well, and is a great experience for everyone on the team.
NWN: Why do you feel that base is so strong?
Chlopecki: I feel like the coaches helped create it, but not only the coaches, the players. The coaches can be on board, but it's the player's decision to be a good member of the team. So all the players help create that base.
NWN: What is the most important aspect of the tennis team, in your eyes?
Chlopecki: I think the most important aspects are the friendships you form on the team.
NWN: Why?
Chlopecki: I've made a bunch of great friends through the tennis team. We might have had similar classes otherwise, but we may not have had the chance to talk to each other. Through the tennis team, we're thrown in a situation where we say, "oh you play tennis too, let's be friends," and so you create friends through it.
NWN: Do you see yourself playing tennis when you leave Niles West?
Chlopecki: I will be playing club tennis in college.
NWN: Do you feel like Niles West's program has influenced your decision in a way that makes you want to continue tennis?
Chlopecki: I was thinking about going to play club tennis, but I feel like Niles West has strengthened that.
NWN: Do you mean just as a player, or in regard to your love for the sport?
Chlopecki: Well, I'd say it's definitely both.
About the Writer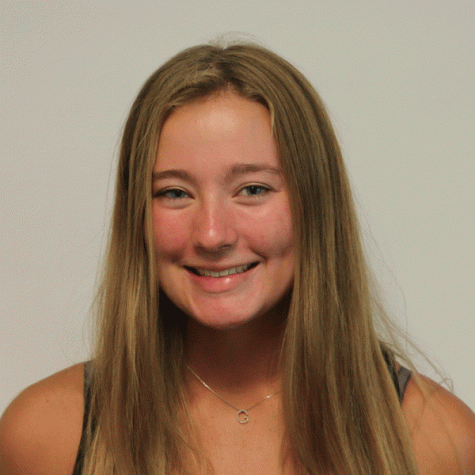 Grace Geraghty, Editor in Chief
Grace is a senior in her third year on Niles West News, where she is the Editorial Editor in Chief. Outside of NWN, she can be found figure skating, at...